I take the view based upon the U.S. First Amendment. I'm in favor of relegating these pathetic, imbecilic morons to the periphery of society, than turning them into martyrs by limiting free speech. These hate speech laws can, and have been used to limit criticism of Islamization, or whatever the self anointed ruling elite deem to be sacrosanct.
What is plain for all to see, is that Jussi Siitarinen is a racist, bigot and an anti-semite, who deserves no sympathy whatsoever, not even for having his free speech rights violated. It's the rest of us who need sympathy however, because of morons like Siitarinen, the state feels it has the moral upper hand in setting its sights and big guns on the rest of us, using the most idiotic rationale in doing so.
H/T: Teemu Asikainen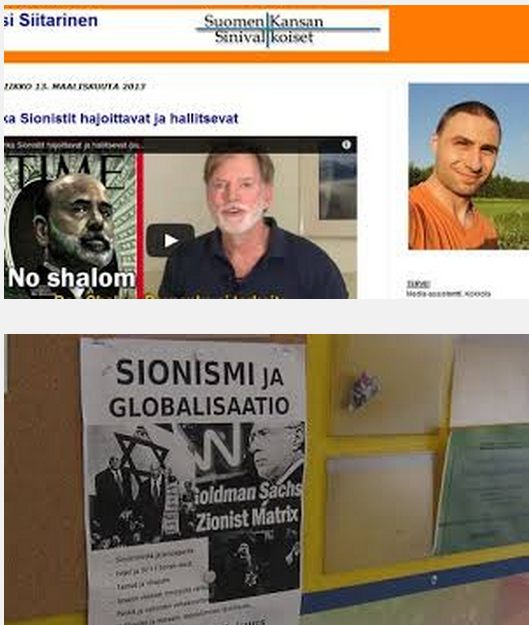 Anti-Jewish writings online receives fine
A man from Kokkola has been convicted of the so-called blog trial with a fine. The decision by the Central Ostrobothnia district court found the man guilty of criminal incitement in blog writings against the Jewish people as a group.
Central Ostrobothnia District Court has sentenced Jussi Siitarisen in 30 daily fines, that is, the lowest fine day fine will rise to EUR 180. Justice considers the writings to represent typical hate speech, which was intended to bash the Jewish ethnic group.
The prosecutor pointed out that the accused is entitled to opinions, but freedom of expression can be limited. Court ordered Siitarinen to remove the online entries, and to delete them.
Compliance with the judgement was asked by the Deputy Prosecutor General Jorma Kalske in his prosecution demands. In the indictment, he called for fines and disposal of the blog posts.
According to the prosecutor the author had made then available to the public, and there have been debates, which slandered and insulted the Jews based on race, religion, nationality, origin, and religion .