In the U.S., this store and its owners would have been (justifiably) brutalized in the press, and it's financial holdings greatly depleted as one supplier after the other would have been contacted and made aware of the immorality of doing business with it, and ended relations.
IMHO, that's the best way to go.
Now Magnettimedia only faces 90 000 Euros in fines, when it could have been much much more, and with a whole host of people supplying his business being made well aware that doing business with antisemites, is bad business for everyone.
For you see, making the public aware of which suppliers are working with these antisemites, with help from the media, puts pressure on the suppliers as well, who haven't had any problem morally in supplying the J.Kärkkäinen chain while it was publishing these antisemitic screeds. Thanks to hate speech laws, they get off scot-free.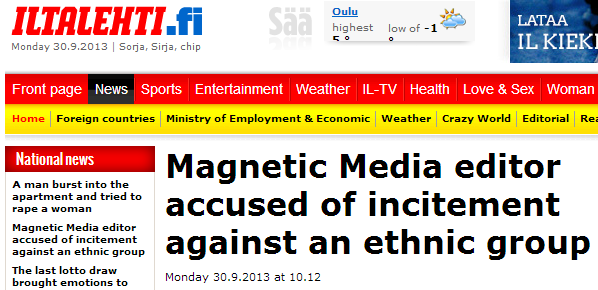 The editor was read this morning in Ylivieska the charges of ethnic agitation.
 IL.The prosecution contends that the department store company J. Kärkkäinen, shall be sentenced to a 90 000 euro fine for anti-Semitic writings.
The store, J. Kärkkäinen's free paper, Magnetic Media (Magnettimedia), released last fall and early this year, articles that, according to the prosecution, revile Jews. The company's management disclaims any connection to magnetic media's publishings. According to management, the editor is responsible for the content of the articles.
H/T: Harri S.