Diana's latest rebuttal of Ron Radosh's 'unassailable knowledge' of agent 19.
h/t: Andy Bostom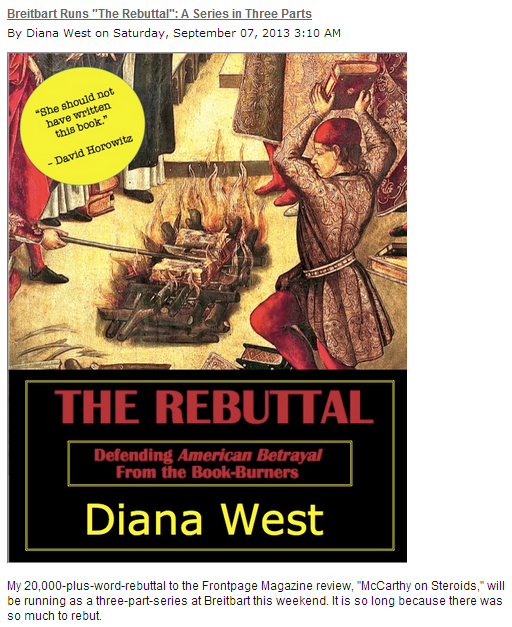 SEP9
Written by: Diana West
Monday, September 09, 2013 9:56 AM  
Air Force historian Eduard Mark, now deceased, wrote a paper in 1998 linking the codename "19" in KGB cable 812 from the Venona archive to Harry Hopkins.
Mark's thesis is discussed on two pages of American Betrayal — a detail in a 403-page book with 944 endnotes. It is a hallmark of the weird war on American Betrayalthat reviewer Ronald Radosh inflated several such details out of all recognition and then attacked them in their exaggerated state. Thus, Hopkins/"19″ is called the "linchpin" of my book, which is nonsense as dispatched in Part Two of The Rebuttal.
While it is not the linchpin of my book  — indeed, I could cut out all reference to it and make the same case —  Hopkins/"19″ may be seen as the linchpin of the war onAmerican Betrayal.
Having over-inflated the significance of Hopkins/"19" in my book (two pages) to a point of absurdity, Radosh sets out to take down Hopkins/"19" as a standing argument. This included negating the 1998 Mark research paper that gave rise to Hopkins/"19."
First, Radosh cites historians John Earl Haynes and Harvey Klehr, whose research identifies "19" as Soviet agent Laurence Duggan. Haynes and Klehr base their argument on the many identifications Alexander Vassiliev found in KGB documents known as "the Vassiliev notebooks" linking the codename "19" to Soviet agent Duggan into the 1940s. Eduard Mark, on the other hand, constructed his "19" theory based on meeting lists and appointment books to ascertain what officials had access to the tiny, high-level presidential meeting under discussion. (Mark had weighed Duggan/"19″ i.d.'s of the 1930s into his 1998 calculations but dismissed Duggan as a possibilility for reasons listed in his footnote below.**)
Then Radosh went farther still.
He describes a dramatic scene at a gathering of espionage experts and authors he, Radosh, in part presided over at the Wilson Center in Washington, DC in 2009. Among the assembly were M. Stanton Evans, John Earl Haynes, Harvard's Mark Kramer, Eduard Mark (d. 2009) Herbert Romerstein (d. 2013), and Alexander Vassiliev.
In this company, Radosh writes, Mark "publicly" recanted his 1998 findings that identified Hopkins as "19."
Radosh:
At a conference on Soviet espionage held a week before his untimely death, West's source, Eduard Mark, publicly stated that he now acknowledged that Harry Hopkins was not Agent 19, and that the conclusion he had reached in his 1998 article was false."
In Part Two of The Rebuttal, I flag a discrepancy in the record. I compare Radosh's August 7, 2013 statement —  Mark recanted his thesis — with what he wrote me in an email two months earlier on June 13, 2013.
Addressing the same topic — Hopkins/"19″ vs. Duggan/"19″ — Radosh wrote me:
Were Mark still alive, I'm certain he would have conceded the point."
What was that again?
Were Mark still alive, I'm certain he would have conceded the point.