It's why many politicians refuse to simplify them.
What Charles Hurt calls 'grandstanding', more knowledgeable people call, 'stating the case to the people and laying the road map in how to proceed'.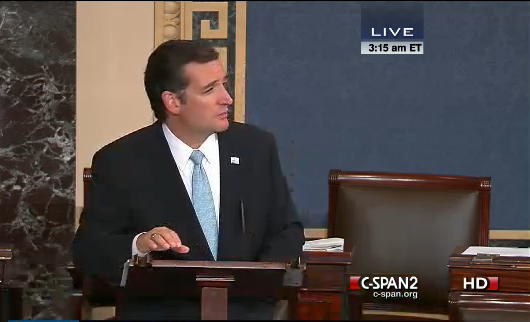 Charles Hurt, a self proclaimed Tea Party advocate, eviscerates Ted Cruz's filibustering as grand stand tactics, or in other words "parliamentary charade," bamboozeling headfake" "just plain nuts" and "a parliamentary prat fall" , yet fails to understand exactly why Cruz did it, and why voted "aye' in yesterday's vote.
What's in question here is parliamentary machinations that few people outside the halls of both houses understand, and what seasoned politicians use on a regular basis to flim-flam the electorate they've sworn to serve.
Senator Cruz mentioned on repeated occasions during his 21 hr. filibuster that politicians use of these parliamentary house rules that disingenuous politicians use to appear as voting down certain legislation, but by their inactivity and lack of resolve, serve up a de facto yes vote, even thought they vote 'no' on the legislation itself.
Having the power to thwart legislation by demand in a 60 vote minimum, instead of the raw 51 majority, these GOP get-along RINOS refuse to enjoin it, and vote no on a fait accompli vote, knowing full well they've aided the yes vote, and then go back and tell their constituents that they 'voted no'. It's entirely disingenuous and what Sen.Cruz was demanding fellow Republicans to avoid. Charles Hurt gets it all wrong.
NOTE: A comment from the article that explains why Senator Cruz voted 'aye' in yesterday's vote after he ended his filibuster.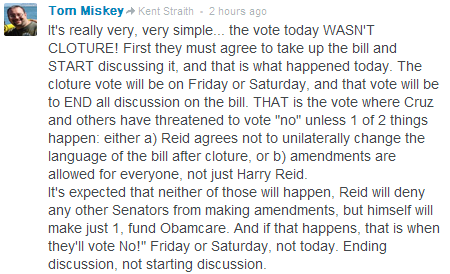 GRANDSTAND: TED'S CRUZADE DOOMED TO FAIL
I brush my teeth with red, white, and blue toothpaste. I have the entire line of Ted Cruz,Marco Rubio, and Mike Lee Super Hero action figures. I will start buying Wheaties again when they put Sarah Palin on the box. And I have always been strongly in favor of shutting down the federal government as long as it takes for these clowns to slash the size of government down to what we can afford.
And then tack on another 10-month shut-down for the EPA just to give them a little taste of their own medicine.
But here is where I got to get off the crazy train. This bamboozling head fake of a parliamentary charade led by Ted Cruz and company that they say will somehow defund Obamacare by not actually defunding Obamacare is just plain nuts.
NOTE: No Chuck, your statements are plain nuts. With ignorant people yapping their traps on issues they have yet to internalize, Hurt makes his charge against Cruz of "grandstanding", to appear immensely childish and naive.