No weeping into the hankies over this one.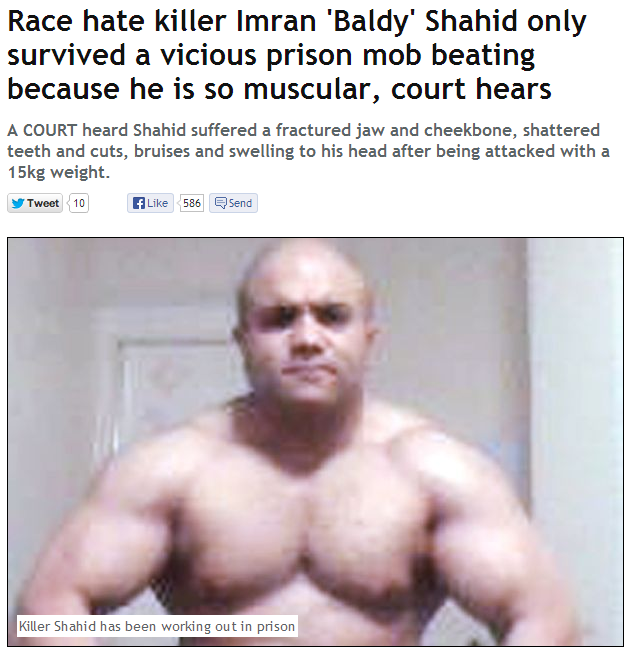 RACE hate killer Imran "Baldy" Shahid only survived a vicious beating by a prison mob because he is so bulked up, a court heard yesterday.
Shahid, 36, is serving life for the chilling abduction and brutal murder of 15-year-old Kriss Donald.
Evil Shahid was working out on a rowing machine when his attackers struck at Kilmarnock prison in February.
Murderer William Crawford, 25, was the only inmate prosecuted, the town's sheriff court heard.
Prosecutor Bernard Ablett said Shahid trained in the gym with fellow prisoner Bernard Bisset.
The gym was busy on the night of the attack and was supervised by two instructors.
Mr Ablett said: "At around 8.15pm, Imran Shahid was using a rowing machine when the accused Crawford lifted a 15kg weight from nearby.
"He lifted the weight above his head and then struck the top of Shahid's head from behind, knocking him onto the floor.
"Crawford then threw the weight onto Shahid's chest before stamping on him as he lay motionless.
"Other prisoners armed with metal poles repeatedly struck Shahid."
Blood pooled on the gym floor, the court heard.
More here. H/T: EDL Buck