Yeah right, Muslims are not violent, Muslims want peace.
Just wait until a Muslim demographic reaches critical mass (coupled with fundamentalist infiltration), then the emphasis on co-existence turns to whines and complaints, then aggressive actions leading to all out Islamification of the local community. This has happened the world over, again, and again and again.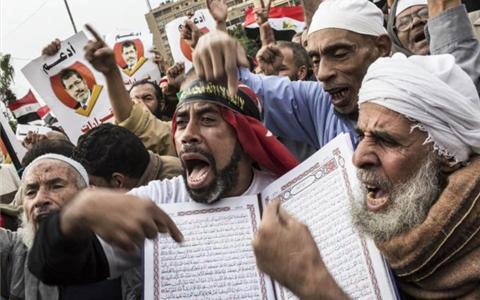 The interviewer states the standard, bogus boilerplate canard that "right-wing Christians in the U.S. are violent". Timothy McVeigh was an anti-Christian nut-job, and when one actually looks down the list of murders and massacres, the overwhelming majority of these people have a liberal (socialist) bent to their ideology. Christians do not plan acts of violence against the community within the walls of their churches. Period.
NOTE: The only case where one can clearly show a Christian was behind a murder, was the assassination of an abortion clinic doctor who specialized in late term abortions (children who could have survived if born before full term).
H/T: Sheik Yer'Mami (PBUH)