This is part of the Daily Mail story on Aaron Alexis that caught my eye:
Aaron Alexis is believed to have brought a shotgun with him on Monday and picked up the other two weapons over the course of his shooting spree at the government facility.
Already the anti-gun enthusiasts are cynically using the tragic incident to promote even more strict gun legislation, though, in fact, not everything is known about the case, and initial reports tend to support the fact that he acquired two other guns at the base during the course of his rampage. His main weapon was a shot gun, the very same weapon pro-gun legislation VP Joe Biden said should be used instead of an AR-15:
"Well, you know, my shotgun will do better for you than your AR-15, because you want to keep someone away from your house, just fire the shotgun through the door."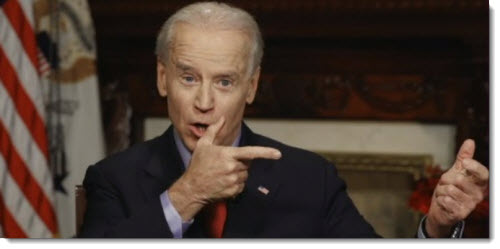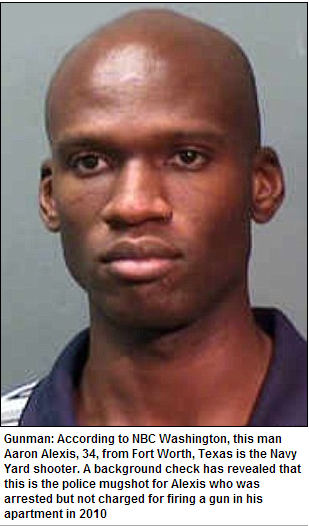 REVEALED: Gunman, 34, who murdered TWELVE in Washington Navy Yard rampage claimed he had 'anger issues' after rescuing victims of 9/11 and was kicked out of Navy after 2011 gun charge
Aaron Alexis, 34, named as the heavily armed gunman who opened fire at the Washington Navy Yard in Washington D.C. – killing 12 people and injuring eight others


He is reported to have used an AR-15 semi-automatic rifle during his rampage, and was also armed with a shotgun and handgun

SWAT Teams fought a heavy gun battle with him and shot him dead


Alexis served in the U.S. Navy for almost four years before he was discharged in 2011 for 'misconduct'

He was awarded two medals during his military service for serving during the War on Terror, a time of national crisis


It has been reported he was discharged from the U.S. Navy because of an arrest for firing his own gun in 2010; a similar incident occurred in 2004

The FBI has determined that Alexis was the only shooter, but agents are still searching for another man who is a 'person of interest'


All of the 15 people wounded are in critical condition, authorities said

President Obama vowed Monday to hold responsible those who carried out the 'cowardly' mass shooting, while calling the victims 'patriots'
The Washington Navy Yard gunman who killed 12 today has previously claimed to be suffering from PTSD after helping rescue efforts in New York following the 9/11 terror attacks.

Gunman Aaron Alexis was shot dead by responding officers after he opened fire inside a Navy facility around 8:00 a.m. on Monday morning.

Since he was identified as the shooter, reports have revealed that it was not the first time he was involved in a shooting.

In 2004, he was arrested in Seattle for shooting the tires of a construction worker's car during what he later called an anger-fueled 'blackout.'

'He said that he didn't remember pulling the trigger of his firearm until about one hour later,' according to the Seattle police report.

Later he said that he felt the intended victim 'disrespected' him.

The report states that his father said his anger issues stemmed back to his time in New York where he helped the rescue efforts following the September 11 terrorist attacks.

The shooter's father told police 'that his son had experienced anger management problems that the family believed associated [sic] with PTSD.'

He was arrested in relation to that incident but never charged, an outcome repeated in Fort Worth, Texas where Alexis was living in 2010.