UPDATE III: 
DC MAYOR: 13 DEAD IN WASHINGTON NAVY YARD SHOOTINGS INCLUDING GUNMAN
The FBI took charge of the investigation. The dead gunman was identified as Aaron Alexis by two federal law enforcement officials who spoke on condition of anonymity because they were not authorized to speak publicly.

One of those officials said Alexis, 34, was from Texas and is believed to have gotten into the Navy Yard by using someone else's identification card. It is not yet clear if that person was an accomplice or if the ID was stolen.
UPDATE 12:07 (local time):

Still searching for two more males, one white the other black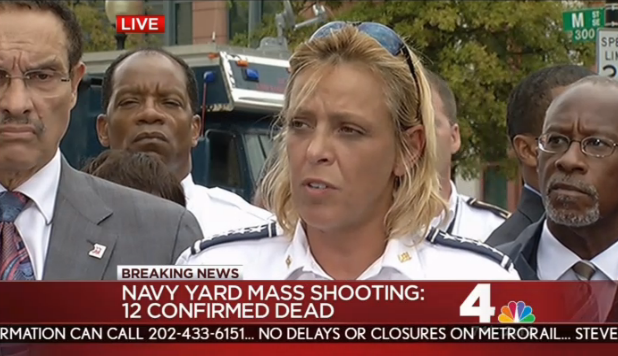 UPDATE II: 2:OOpm (Local time). Police chief Kathy Lanier: " 12 people were shot dead. Two males are being sought, black and white. Police are stilling looking in buildings for these men.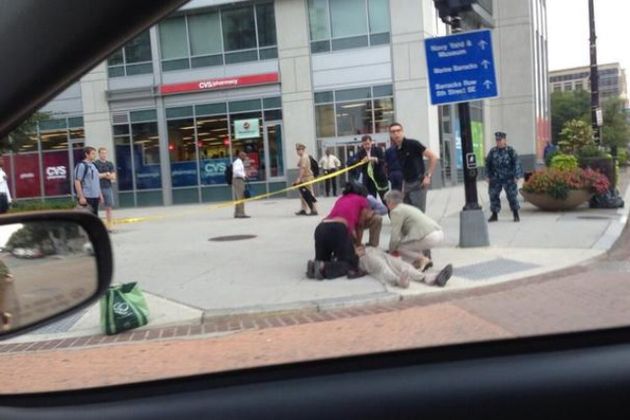 Washinton Post says three now updated to two shooters
NOTE: This was not a random shooting, "the base security officer" was shot dead, the head security official, at the front gate I hear.
4 killed, 8 injured in a shooting at Washington Navy Yard
HE LOOKED, AIMED AND FIRED (Breitbart)
11:53am (local time) — NBC's Pete Williams says shooter was around 50 and associated with the Navy in some way. "This looks more and more like a workplace shooting."
The shooter is 'down' the Navy reported
A Navy spokesman says four have been killed, eight wounded in shooting at the Washington Navy Yard.
Capt. Ed Buclatin, a spokesman at Naval Installations Command, which is based at the Navy Yard, tweeted:
#BREAKING: 4 killed and 8 injured. One shooter down #NavyYardShooting #Navy #CNICHQ
Navy officials had reported three shots were fired at 8:20 a.m. at the headquarters of the Naval Sea Systems Command in Southeast Washington.
One of the shooting victims is a D.C. police officer.
The identity of the shooter is still unknown, Navy officials said.
The Navy has issued a shelter-in-place order for personnel.
The 11th Street Bridge has been shut down, and people should stay away from the area, the police spokesman said. Flights departing from Ronald Reagan Washington National Airport have being been stopped, the FAA says, and incoming flights are being held at their origin.