Up to his massive hip waders with the Muslim Brotherhood.
His doughy head compliments his doughy stapled stomach. Just keep the Krispy Kremes flowing, and he'll walk the plank for jihad…..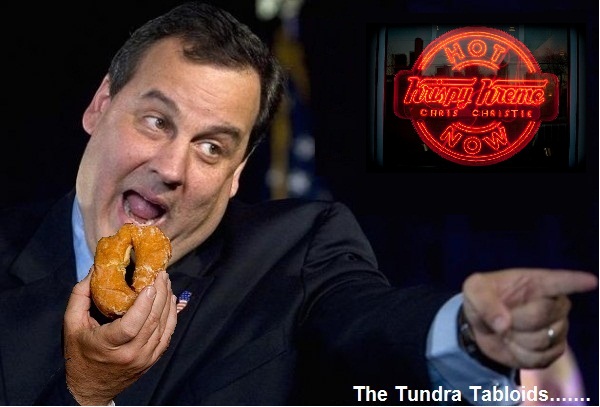 CHRIS CHRISTIE INDUCTED INTO CAIR'S 'BEST LIST' FOR FIGHTING 'ISLAMOPHOBIA'
The Council on the American Islamic Relations (CAIR) excoriated many of its critics in their "Islamophobia" report, but the group also had a "Best List Inductees" which included New Jersey Governor Chris Christie.
CAIR says the list was compiled as a way to recognize those who "deserve recognition for their outstanding contributions to pushing back against Islamophobic trends in 2011 and 2012." The report says Christie is receiving the accolade primarily for his nomination of a Muslim judge and statements in the ensuing controversy:
Following Islamophobic criticism of his nomination of Sohail Mohammed as a New Jersey Superior Court judge, Christie pushed back. Commenting on the baseless fear some were spreading about Islamic religious principles Christie bluntly stated, "This Sharia law business is just crap. It's just crazy, and I'm tired of dealing with the crazies." Of the nominee, Christie stated, "He is an extraordinary American who is an outstanding lawyer and played an integral role in the post-September 11th period in building bridges between the Muslim American community in this state and law enforcement."106 At the height of the Park 51 controversy during the summer of 2010, Christie spoke admirably about the Muslim community in the United States, stating, "We cannot paint all of Islam with that brush. We can't paint all of Islam with the Muhammad Atta brush. We have to bring people together."
Christie has long been criticized by the base of his party for his actions regarding Islamists. In one instance, the Republican Governor allowed an appointee to pick four Islamists for an advisory panel meant to ease relations between the government and the Garden state's Muslim population.