Diana is sure enough willing, but it all depends upon what the former Bolshoi plans on doing. All she wants is a rigorous / spirited academic debate on her findings, that means no ad hominem  attacks on her person and her work nor the censoring of her material and reviews that speak favorably of her work. It's not much to ask.
UPDATE: A friend adds: Being an ex-commie is not the same as being a conservative. Actually there was a book review on Rebecca West's late 1940s book "On Treason" in the Saturday Wall Street Journal that touched on this – that ex-communists keep a bolshie frame of mind, dividing everything into good and evil. From a reviewers brief take on a bio of Whittaker Chambers, who left communism – is a bit like Horowitz:
"Chambers seems not to realize how committed a Bolshevik he remains—not in his objectives, of course, but in his habit of mind." He saw life, in the Puritan tradition, as an apocalyptic battle between Good and Evil."
Add in narcissism, old-age dementia, a healthy dose of personality traits comprised mostly of bile, rage and self-pity, mix in the Bolshie parts to ferment, and there you are – a Horowitz on the rocks!
Andy Bostom emails me: Gingrich & Coulter tweet Evans's "In Defense of Diana West":
Gingrich //bit.ly/1aFWhfJ  & Coulter //bit.ly/19YzwCB  tweet Evans's "In Defense of Diana West" //bit.ly/16qQqtL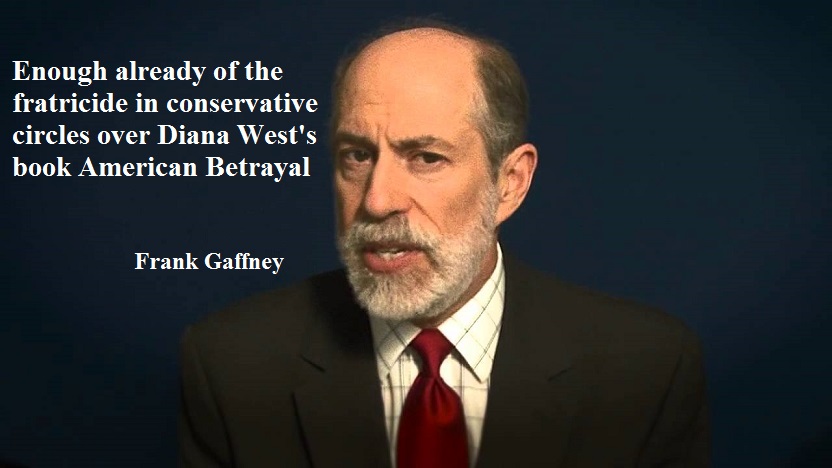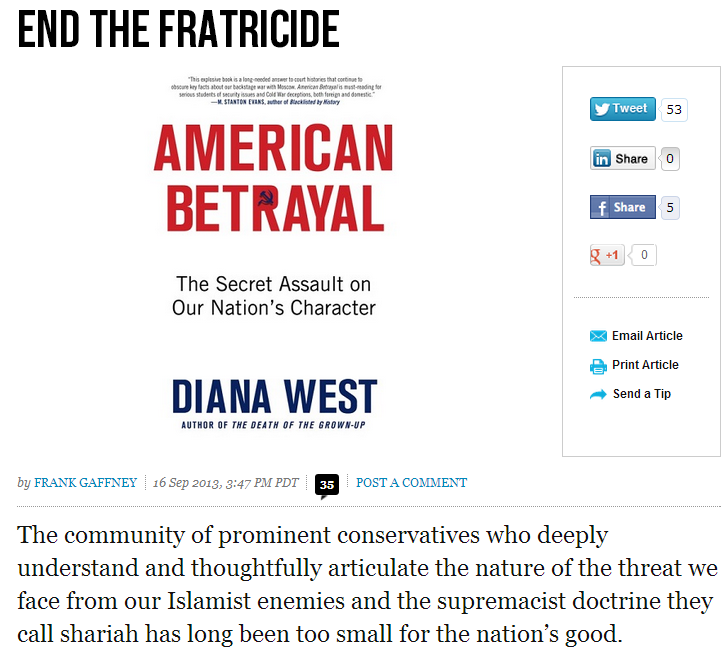 In particular, the number who have recognized the danger posed by the Muslim Brotherhood's "civilization jihad" in America – with its extensive, subversive penetration of our government and civil society – and been willing to raise the alarm about it has been wholly inadequate to the danger we face.
Sadly, that small, but formidable, community has been riven in recent weeks due to, of all things, an ugly fight over the depiction of an earlier threat from another subversive totalitarian foe: Soviet communism. The book in question is American Betrayal: The Secret Assault on Our Nation's Character, published earlier this year by one of the anti-Islamist cohort's most insightful and courageous members – nationally syndicated columnist Diana West.
Ms. West's latest oeuvre started out as an inquiry into how Islamists have successfully gotten "inside the wire" of the White House and other federal agencies, our civil society institutions, and culture. She wanted in particular to consider their impact on U.S. policy and the lengths to which government officials are going to obscure these realities. In the course of researching American Betrayal, however, the intrepid journalist in Diana West prompted her to explore whether such a betrayal was unprecedented, or whether it had actually happened to us before.
It turns out that there is indeed a precedent for today's deep, stealthy penetration and subversion of our civil society institutions and governing agencies. As American Betrayal chronicles, beginning with Franklin Delano Roosevelt's normalization of relations with the USSR in November 1933 – which was predicated upon Soviet Foreign Minister Vyacheslav Molotov's written pledge not to use the opening to subvert the United States, successive American administrations of both parties were subjected to successful Kremlin influence operations and lied about them.
Ms. West systematically lays bare (including in over 900 endnotes) the evidence that supports her conclusions about: the large number of Soviet spies and agents of influence that worked in FDR's four administrations – including a number at the highest levels; the impact they had on policy in the run-up to and during World War II; and the horrific consequences for this country, its vital interests, and the world that resulted.