This is the same Muslim organization (OIC) whose leader (Ekmeleddin Ihsanoglu) is a denier of Muslim/Islamic antisemitism.
Islamofauxbia is a false construct, it's sole purpose is to stifle any kind of argument, claim or position against Islam. In other words, it's 100% sharia compliant, which is in keeping with Islamic/Arab supremacism. No Muslim is allowed to contest Islamic precepts, let alone an infidel.
Please do take note that a time where persecution of Christians (and other minorities) around the Islamic world is at an all time high of epic proportions, the OIC and the Turks press on with Islamofauxbia being the most pressing of issues.
NOTE: Clue-bat for the Muslims, we are all offended by Islam on a daily basis, we are not going to allow you to curtail our free speech rights in order to placate your supremacism. So piss off.
H/T: Holger Danske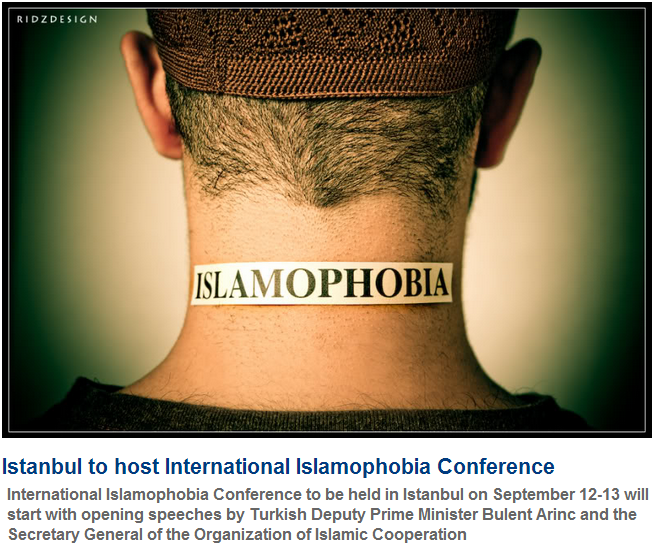 World Bulletin/News Desk
The Organization of Islamic Cooperation (OIC) and Directorate General of Press and Information (DGPI) of the Turkish Prime Ministry will hold the "International Islamophobia Conference within context of law and media" on September 12-13, 2013 in Istanbul.
Turkish Deputy Prime Minister Bulent Arinc, the Secretary General of OIC Ekmeleddin Ihsanoglu and General Director of DGPI Murat Karakaya will deliver the opening remarks at the conference.
The issue of "Democracy, Multiculturalism and Islamophobia" will be discussed at the first session, followed by a discussion on "Media's Role and Responsibility on Islamophobia" at the second session in the afternoon and "Law, Human Rights and Islamophobia" later in the day.