Check this story out at the post-zionist rag, Haaretz, the headline is incredibly misleading. Nowhere in the story does she point an accusing finger at Israel over Syria, quite the opposite.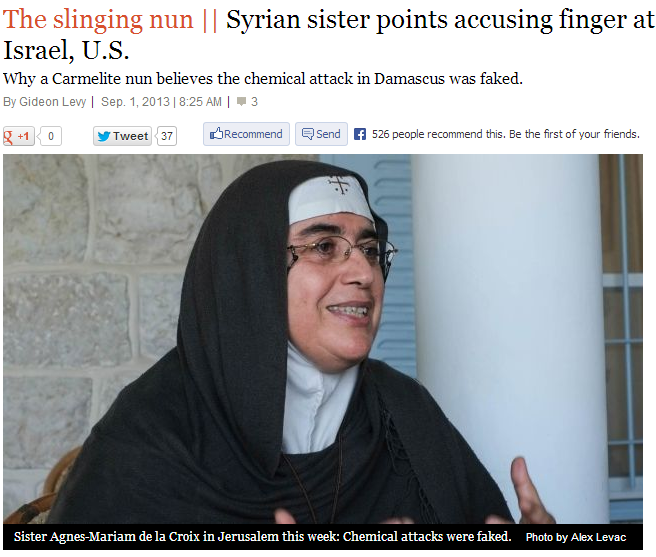 Try as I might, I can't see any reference to Israel that poses an accusing tone, only love and concern that al-Nusra jihadis are an existential threat to everyone in the region, including Israel.
I first met her at an international peace conference in Kuala Lumpur, Malaysia, where she delivered a stunning speech and presented shocking video clips on what, in her view, is being committed by the jihadists. When I was introduced to her, she told me she loved Israel and that the Jews should serve as a light unto the nations. I was surprised to learn that she had come to Israel for a brief visit.

[…]

As she sees it, Syria has returned to the most barbaric era in its history, and the media is staying silent. She believes Jabhat al-Nusra is committing massacres of both military personnel and civilians and is a threat to the entire civilized world, especially Lebanon and Israel – if Assad's regime is toppled, a jihadist dictatorship will emerge in Syria. Thus, she claims, the United States is actually helping to strengthen Al-Qaida.
Read it all here, and if you spot where the sister is even remotely accusing Israel, I would like to know about it, but I just don't see it.
H/T: Sanna