This is what you get when two tyrannical sides clash for a couple of years.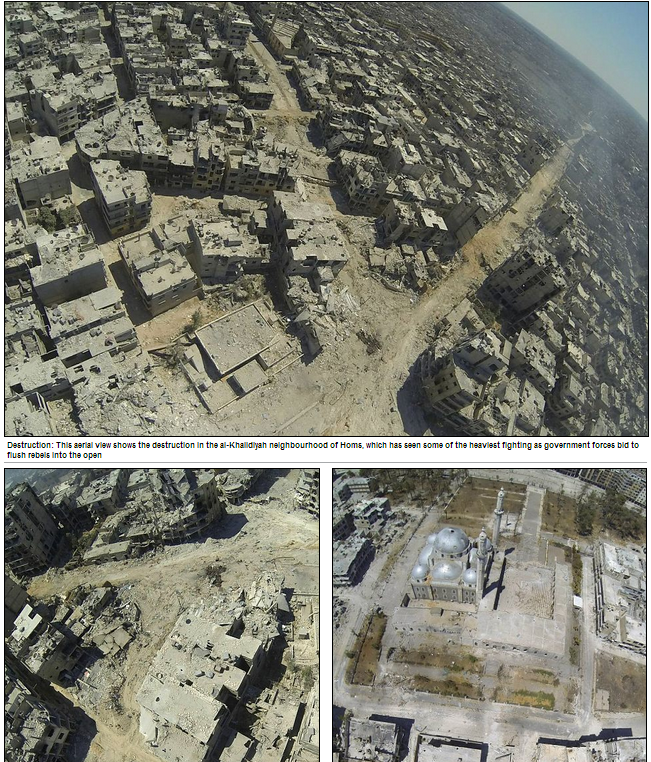 The wasteland: Horrifying aerial pictures show full scale of destruction of Syrian city of Homs
Syrian forces say they have captured the 

Khaldiyeh district of Homs, a rebel stronghold since the war began

But 

Syrian Observatory for Human Rights say there is still scattered fighting in southern areas of the neighborhood

Syrian TV aired footage of troops roaming deserted streets and waving flags in front of shell-scarred buildings
By MATT BLAKE
PUBLISHED: 17:29 GMT, 29 July 2013 | UPDATED: 08:48 GMT, 31 July 2013
House after house, block after block it is a scene of the most appalling devastation.

Not one building has escaped the onslaught of countless mortars, bombs and bullets in Syria's savage civil war. The only signs of life in Homs are out-of-control weeds. Syria's third largest city – and the home of 650,000 people before tens of thousands fled or were killed – now looks as if it has been blasted back to the Stone Age.
The picture shows the city's strategic Khalidiya district which troops loyal to president Bashar al-Assad have just retaken after weeks of fierce fighting with rebels.
The counter-offensive, which also saw the government make gains around the capital Damascus, was supported by Lebanese  Hezbollah guerrillas.

At least 100,000 people have been killed in the Syrian conflict, which started with peaceful protests against Assad's rule in March 2011. Nearly two million refugees have fled.
H/T: EDL Buck