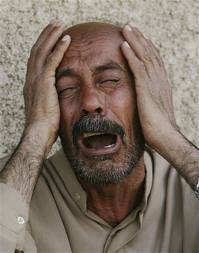 Syria: Car bomb in Damascus suburb kills 18
AP3:25 p.m. EDT August 6, 2013
Eighteen people were killed and 56 wounded after a car bomb exploded late Tuesday in Syria.
DAMASCUS, Syria (AP) — Syrian state media say a car bomb has struck in a Damascus suburb, killing at least 18 people and wounding 56.
The news agency SANA says the powerful blast hit the Syrian capital's suburb of Jaramana late on Tuesday.
The suburb is an overwhelmingly pro-regime district located just a few kilometers (miles) southeast of Damascus.
There was no immediate claim of responsibility for the attack.
Iraq violence: Car bombs in and around Baghdad kill 41
The car bombs targeted markets and shopping streets in different parts of the city
A series of bomb attacks in and around the Iraqi capital, Baghdad, has left at least 41 people dead and more than 100 wounded, officials say.
The deadliest explosion killed 10 in a village northwest of Baghdad.
Six car bomb blasts targeted markets and shopping streets in different parts of Baghdad itself earlier on Tuesday.
A wave of violence has swept Iraq in the past six months, with Sunni Islamist militant groups mostly targeting Shia Muslim districts.
More than 4,000 people have died in such attacks this year. A further 9,865 have been injured so far in 2013, with Baghdad province the worst hit.