Stacked like cords of wood.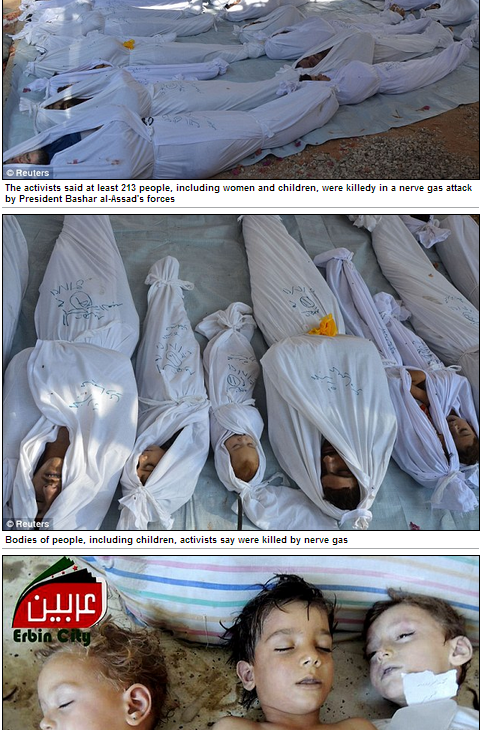 The propaganda on both sides of this conflict is immense, so immense that we have to be careful of making statements before all the facts are in. But of course, if the facts of the chemical attack turns out be real, regardless of which side perpetrated it, the hypocrisy of the West in regards to how it treats Israel is once more on display.
NOTE: But as I recall, it's even worse than that, before any of the facts are in, the world always rushes to blame Israel, and fail to correct themselves after the truth is known.
Syria's darkest hour: Hundreds of children's bodies piled high after nerve gas attack near Damascus leaves up to 1,300 dead
Activists c

laim 1,300

 killed in government rocket strike on residential area

If true, it would represent the worst known use of chemical weapons since  Saddam Hussein gassed thousands of Kurds in the town of Halabja in 1988

Chemical warheads hit suburbs of Ain Tarma, Zamalka and Jobar

They hit just before dawn as families lay sleeping

A UN team is in Syria to probe chemical weapons use by President Assad


Many countries have called for an immediate investigation

French Foreign Minister has called the attack an 'unprecedented atrocity'

William Hague said hopes attack will 'wake up some' who support Assad

Claims come as refugees flood into Iraqi Kurdistan

By SAM WEBB
PUBLISHED: 08:11 GMT, 21 August 2013 | UPDATED: 14:25 GMT, 22 August 2013
The world has looked on in horror as graphic images emerged showing the aftermath of a dawn poison gas attack in the suburbs of Damascus that wiped out 1,300 people as they lay sleeping in their beds.

Syrian activists accuse President Bashar al-Assad's forces of launching the nerve gas attack in what would be by far the worst reported use of poison gas in the two-year-old civil war.
Activists said rockets with chemical agents hit the Damascus suburbs of Ain Tarma, Zamalka and Jobar before dawn.

While these pictures of dead children are graphic, disturbing and undoubtedly the worst so far to have emerged from the conflict, MailOnline has made the decision to publish them in order to raise awareness of the plight of innocent people in a war that shows no sign of ending.