I rarely say anything good about a legacy news media newspaper, but no one beats the Daily Mail for photography, the article is full of riveting photos so go there to read and view it all.
NOTE: Real sad news about the camerman/journalist Mick Deane being killed while filming the violence. Condolences to his family.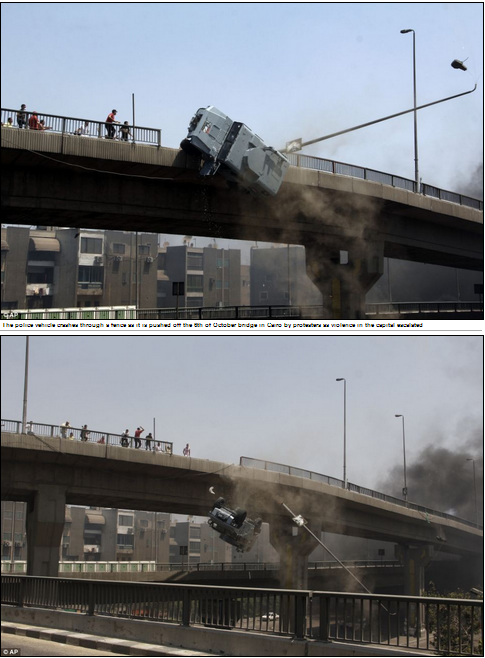 Horrifying moment Egyptian protestors pushed an armoured police van 50ft off a bridge before officers were stoned by mob
The van was pushed off the 6th October Bridge in the Egyptian capital of Cairo during clashes

After it landed, protesters attacked it and threw stones at the wreckage while under fire from police

Not clear how many people were on board or their injuries although reports claim on Twitter that five died

278 people have died across country after security forces raided camps set up by ousted Morsi supporters


Sky cameraman Mick Deane, a 61 year old father of two, was shot and killed as he reported on the violence
By MICHAEL SEAMARK, BECKY EVANS and MARK DUELL
PUBLISHED: 15:10 GMT, 14 August 2013 | UPDATED: 20:20 GMT, 14 August 2013
This is the horrifying moment an armoured police vehicle was pushed off a bridge by protestors in Cairo today.

The van plunged off the 6th October Bridge before demonstrators attacked the wreckage. It is not known how many people were on board and how many people survived the fall, but bloodied men were seen lying around the van moments afterwards. Unconfirmed reports on Twitter claimed five were dead.

The dramatic pictures show the van being ambushed by dozens of people before crashing through a protective fence on the bridge. It then falls upside down and then rolls onto its roof as it lands. Blood can then be seen on the ground as nearby police officers pull injured men out of the crushed vehicle.