H/T: Always Watching: "One has to treat the Muslim Middle East as an interrelated area, out of which a flow of criminality and violence comes."
UPDATE: Body count rising: "At least 29 people have been killed and more than 350 injured by two huge blasts in Lebanon's northern city of Tripoli, health officials say."
UPDATE II: Death toll rises to 47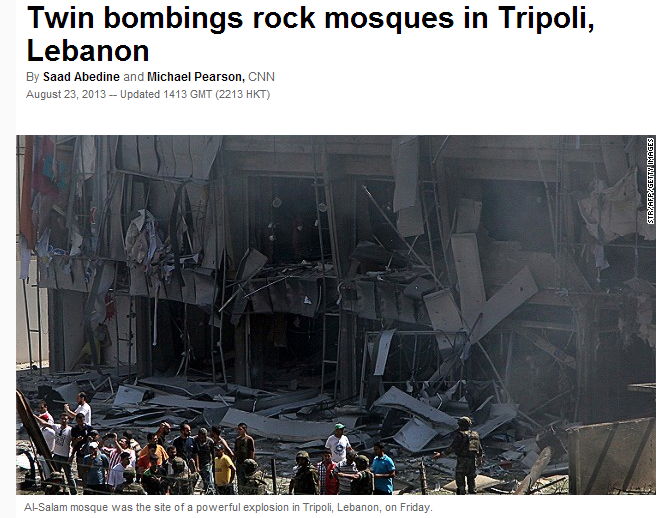 (CNN) — Two powerful explosions ripped through neighborhoods near mosques in the northern Lebanon city of Tripoli on Friday. At least 27 people died and more than 400 were wounded in the bomb blasts, the Health Ministry said.
There was heavy gunfire after the explosions, Tripoli residents told CNN.
While the motive for the attacks was unclear, Lebanon's state-run news agency, NNA , said they appeared to target mosques run by imams with ties to Syrian rebels.
Lebanon has been the scene of increasing sectarian violence recently, including battles between supporters and opponents of the regime in Lebanon's neighbor to the east, which is currently torn by a bloody civil war.
The Lebanese army said it had established a security cordon around the blast sites. The bombs caused "great material damage" in addition to the casualties, the army said.
The first blast occurred near the Sunni al Taqwa mosque, Lebanon's state-run National News Agency said.
The second occurred minutes later near al Salam mosque, another Sunni mosque that is close to the residence of acting Prime Minister Najib Mikati, as well as Samir Al-Jisr, a Sunni member of parliament and the former head of the country's Internal Security Forces, Ashraf Rifi.