Sharia law enforced in Sweden.
Never mind the fact that the Muslim call to prayer is indeed a great annoyance to most non-Muslims (I've heard it many times in Israel and it's like nails on a blackboard), and I'll wager that many nominal/secular Muslims think so as well, still the Swedish state will victimize anyone for expressing a contrary opinion about Islam and its public outward features.
The highly ambiguous laws governing 'hets mot folkgrupp', (agitation of an ethnic group), as well as the interruption of religious rights, is worded towards the benefit of the state, they alone hold the keys to defining what is what. So a man simply driving down the road objecting to having his hearing assaulted by the wailing of Muslim, honks his horn, and yes, he's hauled into court.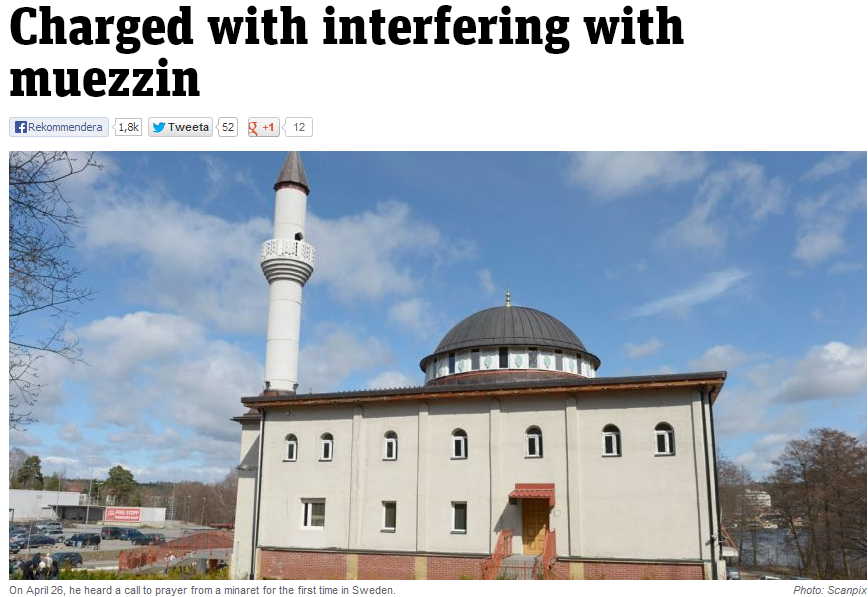 A 22-year-old man accused of having interfered at Fittja mosque south of Stockholm.
According to the prosecution the man in May of this year drove past the mosque and tooted while the imam called for Friday prayers.
The man is suspected of disturbing the ordinance, a crime that can result in a fine or imprisonment of up to six months.