A 'sense of freedom' in relation to N.Korea, is only what N.Koreans feel when managing to escape the utopian paradise. It starts while the back is right under the fence.
All brands of socialism (statism) can be labeled under 'secular religion', the true believer cares not whether the party program can be proven false, because it's an article of faith that it's true.
H/T: Mimosa Dedanann
The genius himself: Tommi Lievemaa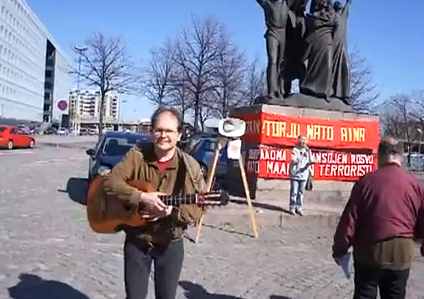 Sometimes you have to travel thousands of miles to be able to see the whole picture better. When I traveled as representative of the Communist leage to North Korea as a guest of the Korean Workers' Party, it took at least a couple of days to get used to a completely different society. Although we are communists, we have for the most part been born and lived our whole lives under capitalism. It can't be without affecting the brain. When we go to a different, socialist world, it will take time to calibrate the mind to this environment.
Uusi Suomi: Finnish Labour Party Deputy Chairman Tommy has a crush on communist North Korea. He says that he's been there as a guest of the Korean Workers' Party .
– P-Korean society lacks almost entirely private ownership of the means of production, and with it also lacks the owning class, the so-called employers. This creates a totally different atmosphere in society, I think it creates a different sense of freedom. Man does not work just to enrich somebody else, the Espoo Communist explained in a Puheenvuoro blog post.
He found a closed country in trouble.
– Rural development has not been as rapid as in the capital city of Pyongyang. This is seen, for example in the electricity supply problems. A certain amount of bureaucracy limits some things, one did not just walk into the train station and buy a ticket. I would like to see more transparency in the flow of data information, including with the telling of problems in the news, etc.