Cause and effect.
H/T: Brian John Thomas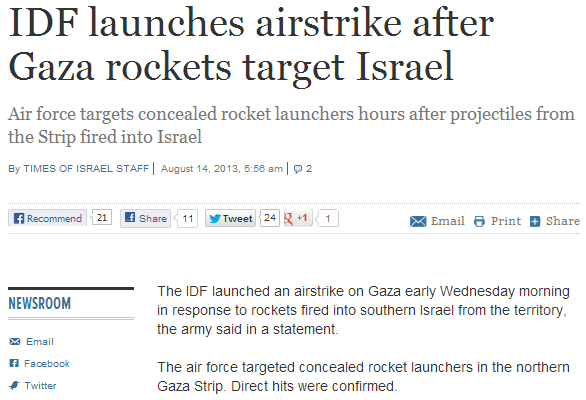 Peter Lerner, an IDF spokesman, said the air force was safeguarding Israeli civilians and targeting terror cells. "The IDF air strikes were conducted in response to the rocket launched at the civilians living in the Sha'ar HaNegev regional council yesterday (Tuesday) evening," Lerner said in the statement.
"This is an absurd situation that would not be tolerated anywhere else in the world. The IDF is charged with, and will continue to operate in order to safeguard Israel's civilians, and combat terror and its infrastructure the in the Gaza Strip."
Lerner added that Israel holds Hamas accountable for any terror activity emanating from the Strip.
Hours earlier, just before 10 p.m. Tuesday evening, rockets targeting southern Israel were fired from Gaza. No injuries or damage were reported.