Cleansing the gene pool as they go, yet another ignoramus lefty looser.
I guess being a gay anti-Israel basher (in spite of Israeli protection of gays), and trying to prove it by visiting a highly anti-homosexual society run by a genocidal thugocracy, isn't such a good idea after all.
ODDLY ENOUGH, BEING A CARD CARRYING MEMBER OF QUEERS AGAINST ISRAELI APARTHEID AND VICIOUS JEW-HATER NOT HELPFUL IN EGYPT
Deserving F$ckwit John Greyson Arrested In Cairo Haha!
Member of Queers Against Israel Arrested by Egypt Before Trying to Cross into Hamas Gaza
The Hamas-controlled Gaza strip has declared homosexuality punishable by death. Hamas cofounder Mahmoud Zahar has said, "You in the West do not live like human beings. You do not even live like animals. You accept homosexuality. And now you criticize us?"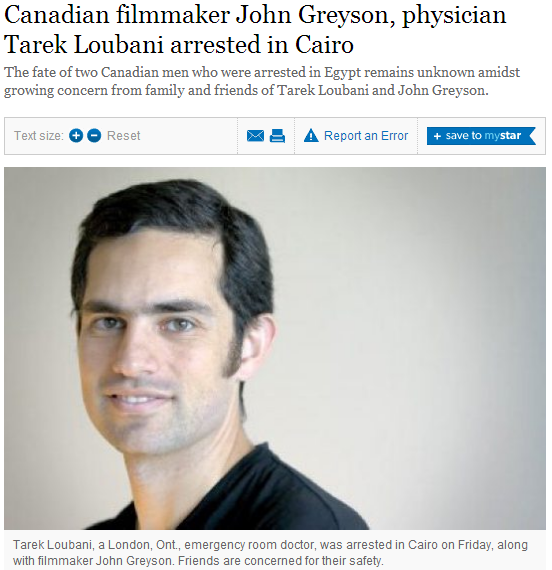 The fate of two Canadian men who were arrested in strife-torn Egypt remains unknown amidst growing concern from family and friends.
Tarek Loubani, an emergency room doctor from London, Ont., and John Greyson, a filmmaker and professor at York University, were arrested in Cairo Friday, according to Justin Podur, a mutual friend of both men.
At around 4 p.m., which is approximately 10 p.m. in Cairo, Loubani called Podur to tell him he and Greyson were being arrested.
"He basically said 'We're being arrested by Egyptian police,'" he told the Star, adding that the phone call was very brief. "I don't know where they were arrested and I don't know where they are now."