Obamaschool………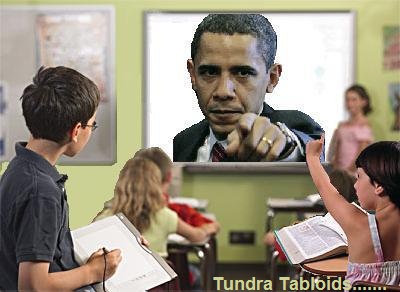 There are 50 states that can adequately take care of their own curriculum themselves without outside meddling, why is the federal government involved in schooling in the first place? But it was a rhetorical question, the statist has to involve himself/herself into every sphere in society, and with devastating effect.
H/T: Doris Wise Montrose
Obama's New Curriculum Gives Students Credit For Wrong Answers
JewsNews.co.il: Pres. Barack Obama is extending his weak leadership to public schools by issuing a new education curriculum dubbed, "Common Core."
Within the mathematics curriculum, Common Core offers students full credit for answers, even if the answer is wrong.
A math curriculum coordinator in Chicago defended the program—"Even if they say 3×4 = 11, if they were able to explain their reasoning and explain how they came up with the answer, really in words or in oral explanations, but they just got the number wrong, we're really more focusing on the 'how.'"
In other words, as long as a student can defend his or her wrong answer, they receive full credit.
Many parents and teachers are concerned over the quality of education students will receive under Common Core.
Fox News reporter, Anna Kooiman questioned if Common Core would leave to the "wussification" of America.