Their supporters in the West should be given notice as well.
Followers of this blog know very well that I've been advocating the same about the MB for years. Hamas and Hezbollah need to be seen in the very same light as well.
NOTE: Lets be clear here, the Muslim Brotherhood (and al-Qaida) differ only with 'mainstream Islam' in the method of Islamification of the rest of the world. Islam 101 (fundamental Islam) is as deadly as the violent jihad.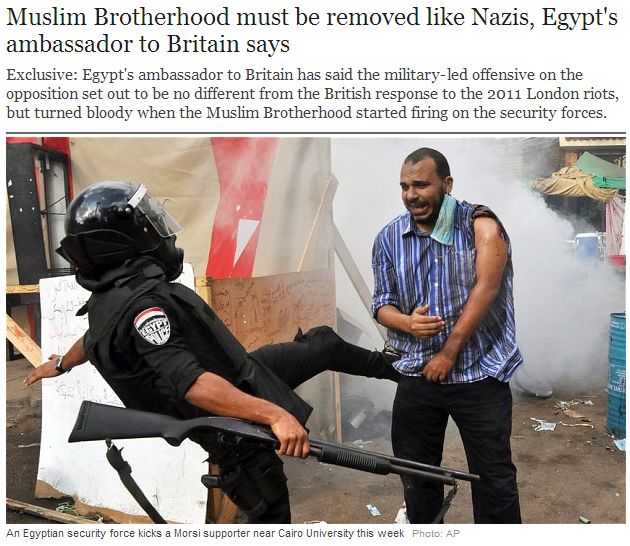 Ashraf ElKholy told the Telegraph that the Muslim Brotherhood offeredEgypt a stark choice that it either exercise power or it would assert itself with violence. When the military-backed interim government displaced the Muslim Brotherhood's popularly elected leader, Mohammad Morsi, the organisation opted for confrontation with the state.
"There is no difference with what David Cameron did to deal with the demonstrations here in London," he said. "If the demonstrators don't have any weapons, the police could have reached them and taken them into custody. Nobody would have been hurt. But when the demonstrators have pistols and guns and the police are lined up with guns pointing at them, the authorities have to defend themselves. That is the difference."
Speaking in Egypt's embassy in a Mayfair townhouse, Mr Kholy compared the one-year rule of Mr Morsi to the Islamist takeover of theIranian state after the 1979 revolution and said that, like Nazism, the Muslim Brotherhood ideology sought to dominate Egyptian society.
"Morsi was elected president and held office for one year but in that time he tried to make everything Muslim Brotherhood controlled. Egyptian culture over 5,000 years is a mix of religions and civilisations in which the Islamic religion is one ingredient of the Egyptian character," he said. "The Muslim Brotherhood are like a Nazi group that demand that everything changes and people everything to their way."