This interview with Sergio Widder has just been posted at Israel National News, and republished here with the author's consent.
NOTE: Footnotes included at the end of the article.
ANTI-SEMITISM AND ANTI-ISRAELISM IN LATIN AMERICA
Manfred Gerstenfeld interviews Sergio Widder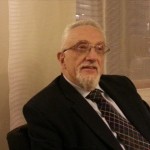 "Approximately half a million Jews live in Latin America. The largest communities are in Argentina (slightly more than 200,000), Brazil (120,000) and Mexico (40,000). Their total number is likely to decrease in the future. Assimilation is one reason; departure for Israel – though not as important as in the 1950's and 1960's – is another. Venezuela is a special case due to political issues linked with the presidency of the late Hugo Chavez. During his tenure from 1998 to 2013, the number of Jews decreased from over 20,000 to 9,000.
"One has to separate issues that are connected with a specific country, from those which represent regional trends. Currently, the main concern forthe Jewish communities in Latin America is probably the growing Iranian presence mainly through countries which make up ALBA, the Alianza Bolivariana para las Américas, which was created by Chavez. (The Bolivarian Alliance for the Americas)."
Sergio Widder is Director for Latin America at the Simon Wiesenthal Center (SWC), an office which he started developing from 1992. He is a Political Science graduate from Buenos Aires University.
He adds: "The ALBA countries include Venezuela, Bolivia, Ecuador, Nicaragua and Cuba. This bloc is Iran's main partner in Latin America. The indictment by Argentinian Special Prosecutor Alberto Nisman – who investigates the Buenos Aires 1994 AMIA Jewish Center bombing – indicates that the establishment of an Iranian-Hizbollah network in Latin America dates back to the mid 1980's. Nisman's latest report denounces that – besides Argentina and the ALBA members – countries affected include: Brazil, Chile, Colombia, Guyana, Paraguay, Suriname, Trinidad and Tobago, as well as Uruguay.
"Besides Iran, pro-Palestinian groups also play a major role in hate-mongering against the Jews and against Israel. Their influence will most likely remain strong. The Iranian network in the region is of particular concern. This has been aggravated by Argentina's agreement with Iran to jointly review the investigation of the AMIA bombing, in which 85 people were killed and hundreds were wounded.
"The annual World Social Forum (WSF) is a major venue which has a negative international impact on Israel. This large NGO and social movements gathering was founded in 2001 in Porto Alegre (Brazil). It was established by Brazil's then-opposition and now ruling Partido dos Trabalhadores (Labor Party). The WSF has become the main international platform for the global Boycott, Divestment and Sanctions (BDS) campaign against Israel. In November 2012, it held a special additional four-day session called 'WSF Free Palestine."
"During his visit to Brazil for the United Nations RIO+20 Summit on environmental issues in November 2012, then-Iranian President Mahmoud Ahmadinejad held a meeting with leaders of the WSF.Iran apparently considers that the WSF, which is already a valuable platform for the Palestinians, might help them obtain legitimacy in public opinion.
"Beyond these regional issues, there are also anti-Semitic incidents in a variety of Latin American countries. A number of them can be described as 'traditional anti-Semitism.' The main ones however, are attacks disguised as 'anti-Zionist.'
"In most Latin American countries there are no formal statistics on anti-Semitic incidents. Among systematic research in this field is a yearly report by the Argentinean Jewish community umbrella organization, DAIA, which compiles information about anti-Semitic and other racist attacks in Argentina.[1]
"Due to lack of systematic information, it is not clear whether the problem on the continent is increasing or declining. Developments take place against a background in which many Latin American countries are 'young' democracies. They are involved in a process of expanding freedom and civil rights and have become more open and pluralistic societies. Yet prejudices and racism remain. Anti-Semitism is fueled mainly by radical groups which mask it by claiming they are confronting Israel, Zionism or imperialism.
"Several Jewish organizations confront anti-Semitism in Latin America. The Simon Wiesenthal Center is among the more visible ones on a continental basis; B'nai Brith is another, as is the Latin American Jewish Congress. In many cases, we are the only Jewish Zionist organization to participate in and monitor major NGO forums or United Nations gatherings. This is the case with the WSF where we regularly participate.[2]
"In some instances, the SWC works on past incidents. A successful intervention for instance was our request for the punishment of a soccer club from Argentina, whose supporters chanted anti-Semitic slogans; they were sanctioned with the withdrawal of points which caused them to descend to a lower league. In other cases, we try to prevent negative developments. For example, in October 2012, the SWC protested a scheduled 'ethical trial against Israel' to be held in Argentina's National Library. The event was subsequently cancelled.
"Among the Jews' and Israel's non-Jewish allies, there are religious groups such as Evangelical Christians and some Catholics. Although Evangelicals are a growing force, Catholicism is still the prevailing faith in Latin America. The election of Pope Francis – former Argentinean Cardinal Jorge Mario Bergoglio – has strengthened Catholicism's position. Much work has to be done in terms of developing the Jews' relationships with other NGO's and social movements. There are various cases which illustrate that effective cooperation can be achieved."