Of course 'Eki' approves of obtaining and maintaining the property of others, he's a socialist.
This guy is a national embarrassment. What would he be saying if a government contract worker were to steal Finnish state secrets that badly compromised the government in the international arena?
NOTE: I'm glad I know the extent of current Democrat orchestrated US government skulduggery in domestic spying and invasion of personal privacy. But when it comes to theft, the actual crime, it has to be treated as such. The Guardian had absolutely no right to obtain, nor keep top secret material. It's a plain fact.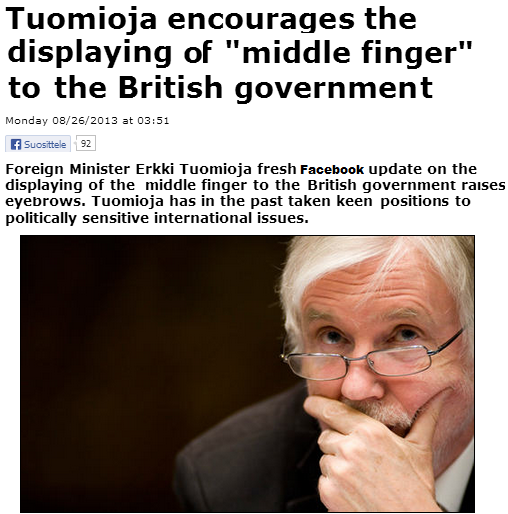 The four Nordic newspaper editors, including the Helsingin Sanomat newspaper, recently sent an open letter to the British Prime Minister David Cameron in which they expressed their concerns for freedom of expression and freedom on behalf of the press.
Foreign Minister Erkki Tuomioja (SDP)  commented on the news Sunday on Facebook, it reads as follows
– The daily paper shows the middle finger to the British government! (That's a good thing).
Editors in chief wished to show in the letter support for the British newspaper The Guardian. According to The Guardian it was pressured to hand over or destroy the documentation provided by leaker Edward Snowden .
[…]
Tuomioja has in the past been criticized for the fact that he would take as foreign minister unnecessary strong critical views on sensitive political positions on international issues.