Islam 101 on steroids.
There can be no doubt that the forces aligned with Barack Obama in Egypt, are not on the side of humanity.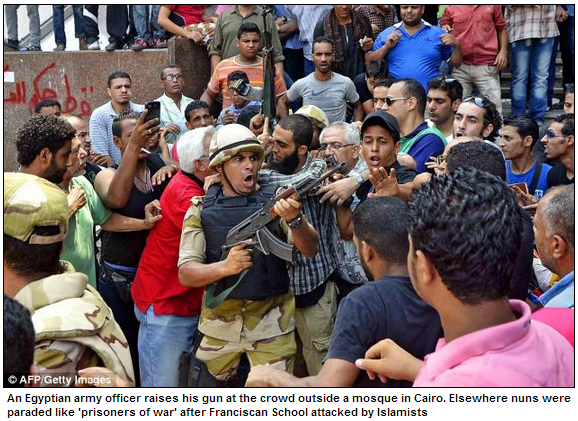 Islamist mob parades nuns in Cairo as prisoners of war after six hours looting church school and replacing cross with banner resembling Al Qaeda flag
Franciscan School looted and classrooms burned to the ground

Nuns subjected to abuse as they were paraded through the streets 
Two Christians killed since government moved against protesters

Dozens of churches, homes and businesses owned by Christians attacked
By MAIL FOREIGN SERVICE
PUBLISHED: 22:29 GMT, 18 August 2013 | UPDATED: 10:38 GMT, 19 August 2013
A mob marched nuns through the battle-torn streets of Cairo 'like prisoners of war' in the latest outrage against Egypt's Christian minority.
Sister Manal, principal of a Franciscan school in suburban Cairo, watched for six hours as a mob looted the building, knocked the cross off the gate and replaced it with a black banner resembling the flag of Al Qaeda.
The classrooms were then burned to the ground and the women taken away, attracting a crowd of abusive onlookers.