It's a sign of something incredibly gone wrong when society starts attacking its own soldiers. But lets be clear about it, the media refrains from reporting on exactly who comprised the 'hateful mob', they weren't the EDL, that's for sure.
DISCLAIMER: No other news source for this piece.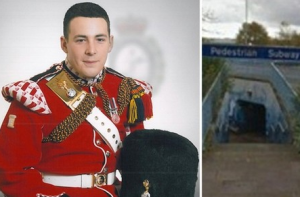 Gang chanted 'Lee Rigby' as they kicked soldier in Exeter underpass
By 
Exeter Express and Echo
Thursday, August 01, 2013
A SOLDIER was attacked in an Exeter underpass by a gang who chanted "Lee Rigby" as they kicked him on the floor.
The 18-year-old, known as Alexander, has been a member of the Coldstream Guards for six months.
But on route to his home in St Thomas, Exeter, he said he was targeted by the hateful mob as he is a serving member of the armed forces.
After a period of about two minutes he managed to escape after fighting off but fear his injuries could have been a lot worse.