The fly in the ointment however, is that poll after poll of the Egyptian public shows their approval of sharia.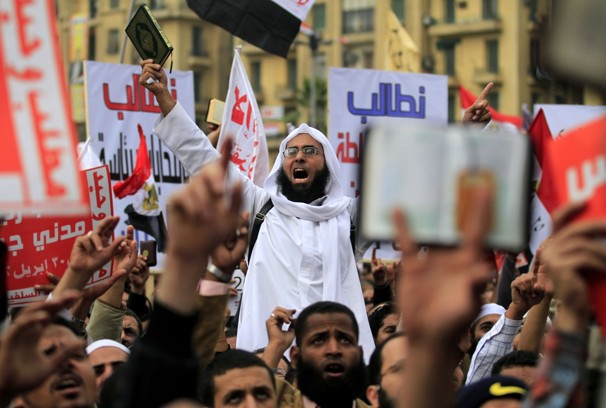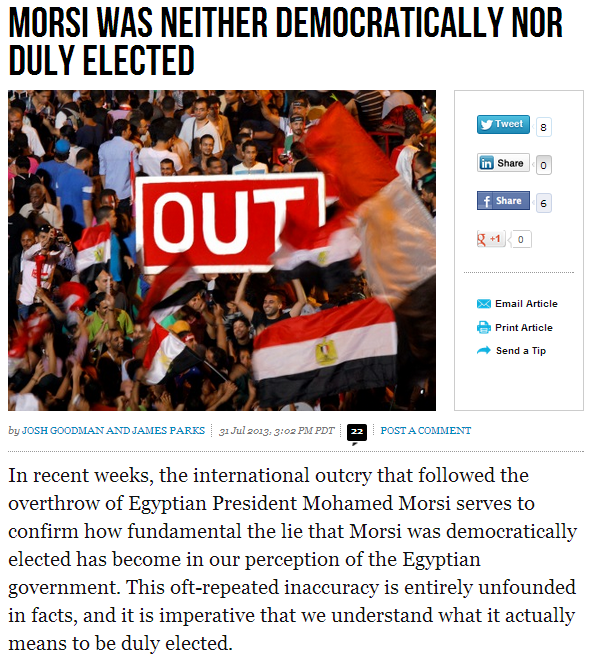 This fact is made all the more important with the backdrop of the manic attempts to avoid calling the military overthrow a "coup" in the debate over Section 7008 of the Consolidated Appropriations Act of 2012; it provides, in part, that funds shall not be made available to the government of a country whose "duly elected head of government," is deposed by military coup d'etat or decree.
After Hosni Mubarak, Egypt's former 30-year ruler, was forced to resign by nationwide protests in the most populous Arab country, the Muslim Brotherhood, a Sunni Islamic group notorious for its role in the creation of Hamas and participation in myriad oppressive regimes, eventually emerged as the leading party in the new Egyptian government. Yet hailing Morsi as the democratically elected representative of the Egyptian people appears to be based on a rather loose understanding of "democracy."
The Brotherhood has been accused of bribing and intimidating voters and rigging ballots during the 2012 elections. The election suffered from abysmally poor voter turnout (43.4% of registered voters), which is especially troubling given the ostensibly historic nature of the race. Out of 23 million voters in the first round of elections, 12 million did not vote for either of the two candidates ultimately placed in the run-off vote. Capping this all off was a blatant power grab from the military, which changed the constitution mid-election to limit the power of the newly elected President.