This is as sick as it gets for the legacy news media.
Asakreh was 18 years old when he went to jail, and bounced around from one Israeli facility to another. For a little over two years, he lived in a cell next to Marwan Barghouti, a prominent Palestinian prisoner sometimes compared to Nelson Mandela.

Dr. Barghouti was jailed with five life sentences for his involvement in the second intifada. He has since espoused civil disobedience in protest of the Israeli occupation of the West Bank. Fluent in Hebrew, he taught his fellow prisoners the Israelis' language and served as a role model.

"He was like a father to all the prisoners," says Asakreh, whose own parents died while he was in prison.
This was Marwan Barghouti's 'involvement' in the Second Intifada: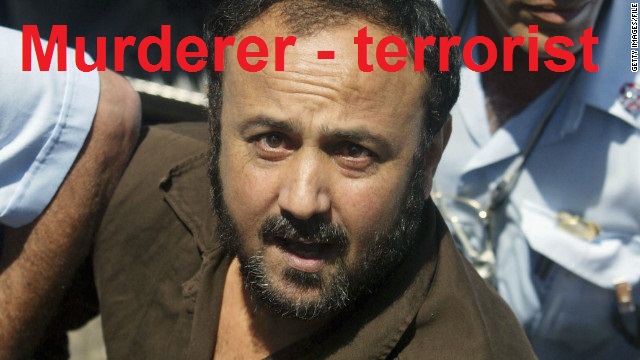 A Tel Aviv judge convicted former Fatah-Tanzim militia commander Marwan Barghouti, 43, on May 20, 2004, of murder for his involvement three terrorist attacks in Israel that killed five people. He was acquitted for 33 other murders due to lack of evidence of his direct involvement in those crimes.
Barghouti was also convicted of a charge of attempted murder, membership in a terror organization and conspiring to commit a crime. The prosecution was seeking to sentence him to five consecutive life terms. The court said in its verdict that "Barghouti was responsible for providing the field units with money and arms…." The judges said that the attacks were sometimes "based on instructions" from Yasser Arafat.
The court found Barghouti responsible for a June 2001 attack in Maale Adumim, in which a Greek monk was murdered, a January 2002 terror attack on a gas station in Givat Zeev, a March 2002 attack at Tel Aviv's Seafood Market restaurant, in which three people were murdered, and a car bomb attack in Jerusalem.