It's starting here in Finland.
It's amazing that it took so long. The Seurakuntalainen (The Congregationist) states that there's "no information about the background of those responsible", but it's plain to see, the perps are Muslims, the big dead giveaway is the "Jesus is a Muslim" graffiti. No non-Muslim would have written it, let alone come up with the thought.
NOTE: The other interesting aspect is that the church is deep inside enemy territory, east Helsinki is full of Muslim migrants, and the church is jutting up against the Islamic center itself, and if memory serves me right, the Pentecostals are very very… evangelistic.
H/T: Vasarahammer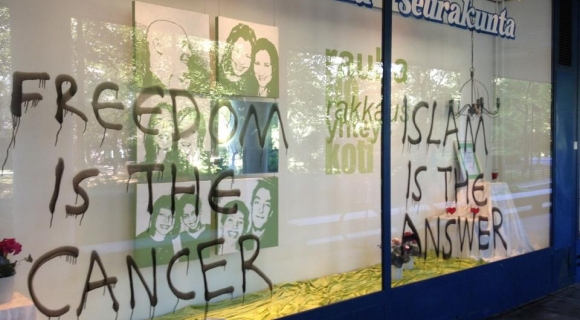 Christian church premises stained with slogans glorifying Islam
Seurakuntalainen: The premises of the Helsinki, The Living Word church has been the target of long-term vandalism. The windows of the church's assembly have been repeatedly defaced with texts idealizing Islam.
The public spaces of the Helsinki Living Word Church has been vandalized during August, at least three times. The windows of the church premises are painted with slogans glorifying Islam and criticizing Western culture and values. The incident was first reported on Nuotta.com.
The Living Word Church is located in Eastern Pasila, right next to the Helsinki Islamic center.
The messages left by the vandals read among other things: (Aug 9)"Alluha Akbar" [Allah is great], (Aug 20) "Jesus is a Muslim" and (Aug 25)"Islam is the answer". Earlier this summer, the church windows were defaced with eggs.
Presently there's no information on the background of those responsible.
Living Word is an independent, nonpartisan charismatic Pentecostal Christian denomination, the church, which was founded in 1983. The church has about three hundred members. Its members include a number of ethnic groups.