Not all Israeli Arabs stick to the status quo of their ruling parties and clans.
It is hard to envisage an Arab Knesset member declaring that "if something were to happen to Israel, this democracy that protects everyone, the whole Middle East would be doomed."

But that is Aatef Karinaoui's declared conviction, and it explains why he is forming the first pro-Israel Arab party, El Amal Lat'gir — "Hope for Change" in Arabic – to run in the Knesset elections on January 22, 2013.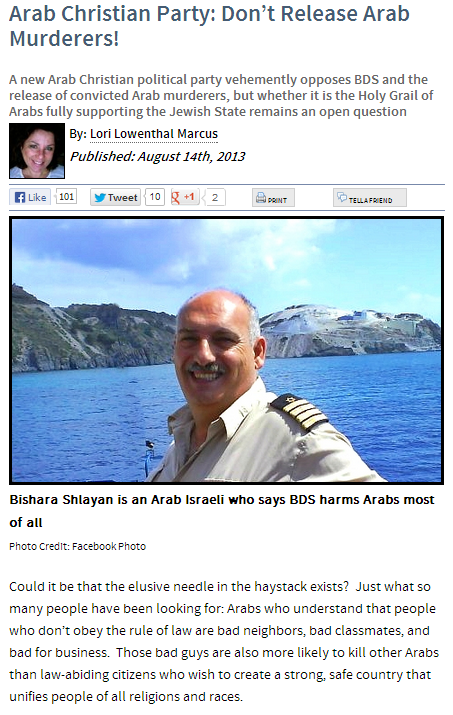 Bishara Shlayan is creating a new Arab Christian political party in Israel.  The party was originally called "Allies of the New Covenant" (B'nai Brit Hahadasha), but recently changed its name to "Allies" so that more Jews will feel comfortable supporting it.
In a recent intervew, Shlayan makes several profoundly important statements: first, he strongly opposes the boycott not only of Israel, but also, specifically, of the territories: "The boycott is a big mistake – it is the livelihood for many, mainly Arabs in the West Bank," he told The Jerusalem Post.
And when asked what he thinks about the release of Arab Palestinian prisoners as an inducement to getting the Palestinian Authority to sit down to talk with Israel, his response is indistinguishable from most Israelis: "Releasing murderers is not going to bring peace."