Scratch a Muslim and out pops their inner Mohamed.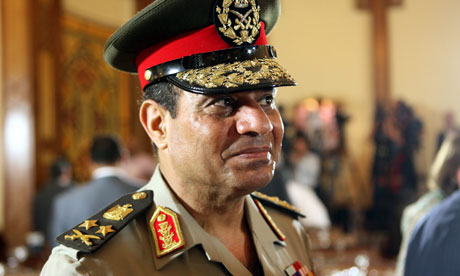 Why Egyptian Putschist General Al-Sisi's Anti-Secular U.S. Army War College Thesis Matters
PJ Media's Headline: Egyptian Army General Wrote Radical Thesis While Attending U.S. Army War College
Andrew Bostom
Foreign Policy recently made available online the 2006 "mini-thesis" of Egyptian General Abdel Fattah al-Sisi, written during his tenure at the U.S. Army War College, within an essay by Eric Trager.
As documented earlier and re-affirmed in an e-mail exchange below with the U.S. Army War College Library's acting director, I was first unable to obtain a copy of al-Sisi's thesis from the Inter-Library Loan office due to its "classification" status:
From: Acting Director,  U.S. Army War College Library

Sent: Tuesday, August 06, 2013 12:09 PM
To: Andrew Bostom
Cc: USARMY Carlisle Barracks AWC Mailbox LIBRARYR; USARMY Carlisle Barracks AWC Mailbox LIBRARYC
Subject: RE: Thesis via Inter-Library Loan/pdf?
Sir,

The U.S. Army War College Library is not able to fill your request. The paper's caveat, "Distribution authorized to U.S. Government agencies only," means it cannot be released to individuals or libraries outside the federal government.
The War College Library's initial rejection of my request Friday prompted a Freedom of Information Act demand for its release by Judicial Watch, which was honored Thursday, August 8, 2013 (thesis available here) — albeit some hours after the thesis had inexplicably appeared online at Foreign Policy.
Over the weekend of August 3, the Washington Post released excerpts from a recent interview of al-Sisi by the Post'ssenior associate editor, Lally Weymouth. The initial excerpted comments of the general rationalized the military putsch he helped orchestrate to depose Egyptian President and Muslim Brotherhood ideologue Muhammad Morsi:
The dilemma between the former president [Muhammad Morsi] and the people originated from [the Muslim Brotherhood's] concept of the state, the ideology that they adopted for building a country, which is based on restoring the Islamic religious empire. That's what made [Mohamed Morsi] not a president for all Egyptians but a president representing his followers and supporters.
Al-Sisi, however, made a series of diametrically opposed statements in his now public 2006 thesis. Yet even al-Sisi's clear statements extolling Islam's Caliphate, or "restor[ed] Islamic religious empire," in the 2006 thesis are mollified, elsewhere, in the same document. These and other clearly conflicting statements in the 2006 thesis render al-Sisi's true ideological bent "ambiguous," likely by design. [Note: I want to thank my colleague Stephen Coughlin for his useful input on this salient point.] One notable exception to his equivocating presentation style is al-Sisi's unambiguous, repeated rejection of secularism.  Al-Sisi's anti-secular stance, as I will demonstrate, is a longstanding, widely prevalent view in Egypt, mirrored by the popularity of the Caliphate ideal amongst the country's pre-eminent Islamic religious institutions, major religious leaders, and Muslim masses.