I remember some 20 years ago talking with an Israeli who had recently traveled to Cairo, he remarked at the time about a conversation he had with a local tax-cab driver. He told me the man said that "Egypt was a pressure cooker, it's one big mad house about to blow, I need to get out of here before it does".
It appears to me that the man (no way of knowing if he took his own advice) knew what he was talking about, and that when it blew, no one could predict what the aftermath will look like once the dust settles. We are now witnessing exactly what that lone taxi-cab driver was predicting.
"The solution might be an assassination list," said Ahmed, 27, who like others refused to use his full name for fear of reprisals from the new authorities. "Shoot anyone in uniform. It doesn't matter if the good is taken with the bad, because that is what happened to us last night."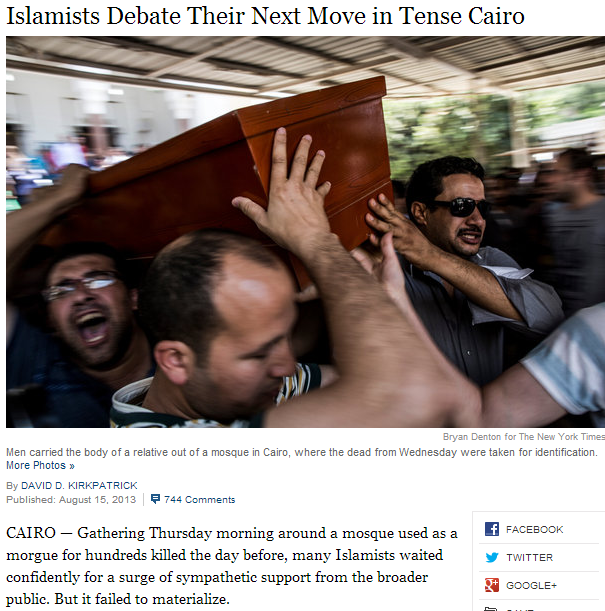 With their leaders jailed or silent, Islamists reeled in shock at the worst mass killing in Egypt's modern history. By Thursday night, health officials had counted 638 dead and nearly 4,000 injured, but the final toll was expected to rise further.
A tense quiet settled over Cairo as the city braced for new protests by supporters of the ousted president, Mohamed Morsi, after the Friday Prayer. The new government authorized the police to use lethal force if they felt endangered.
Many of those waiting outside the makeshift morgue talked of civil war. Some blamed members of Egypt's Coptic Christian minority for supporting the military takeover. A few argued openly for a turn to violence.