They really do think that you're a bunch of dhimmi fools.
This is what happens when an all inclusive society has its own norms and rules about fair play, subverted by those who aim to rule them, all the while claiming victim-hood until critical mass is reached. H/T: Vlad
NOTE: 'Inter-faith' outreach is nothing more than a platform for Muslim leaders to lie and promote their dawa.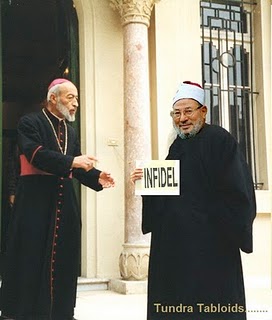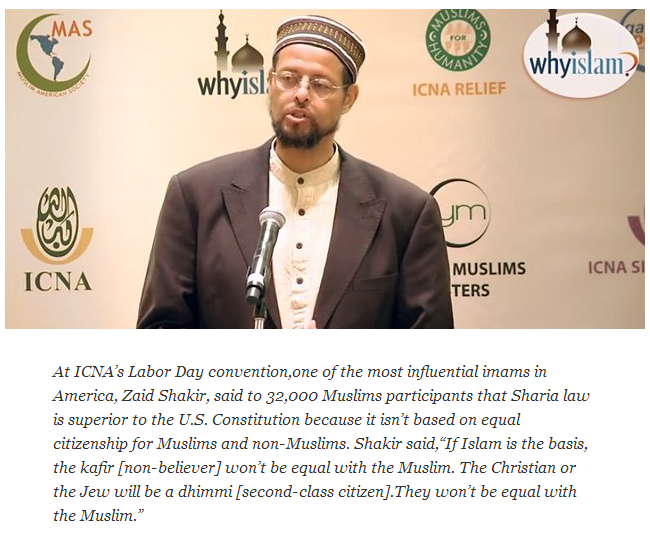 Zaid Shakir: If Islam Rules, Non-Muslims Won't be Equal
Shakir: "The Christian or the Jew will be a dhimmi [second-class citizen].They won't be equal with the Muslim."
An interfaith dinner was held on July 27 at the Islamic Society of Frederick in Maryland, featuring local officials and Christian clergy. One of the speakers, a former leader of the "moderate" Islamic Circle of North America, explained its purpose: "Discrimination is part of the American way," he stated, and "The only way to control that is to make alliances."
The Islamic Circle of North America's parent group is a Pakistani Islamist party named Jamaat-e-Islami. A Bangladeshi court just barred Jamaat-e-Islami from elections because of its opposition to the country's constitution.
One of the former Secretary-Generals of ICNA, Ashrafuzzaman Khan, is on trial in absentia in Bangladesh for alleged war crimes he committed as a member of Jamaat-e-Islami's student wing. The Investigative Project on Terrorism discovered that Khan remains on the board of ICNA's New York chapter.