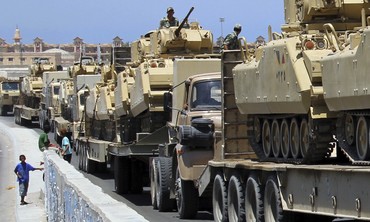 But confusion over details in the immediate aftermath of such incidents is common. Egyptian state television also reported that the men were killed execution-style.
25 police killed in northern Sinai attack
Egyptian officials say officers traveling near Gazan border slain execution-style by suspected Islamists
EL-ARISH, Egypt (AP) — Suspected militants on Monday ambushed two mini-buses carrying off-duty policemen in Egypt's northern Sinai, killing 25 of them execution-style and wounding two, security officials said.
The militants forced the two vehicles to stop, ordered the policemen out and forced them to lie on the ground before they shot them to death, the officials said.
The policemen were in civilian clothes, the officials said, speaking on condition of anonymity as they were not authorized to talk to the media. The killings took place near the border town of Rafah.
There was initial confusion over how the ambush had happened, and the officials at first said the policemen were killed when the militants fired rocket-propelled grenades at the two minibuses.
H/T: Brian John Thomas