To be fair, she doesn't look too tightly wrapped. That said, more coherent Muslims on trial for murder and other crimes have issued similar threats and statements, so nut-job or not, she's treading the same Islamo-mill as the others.
NOTE: What in the world was she doing out on bail after making terrorist threats? No doubt PC politics played a large role in it.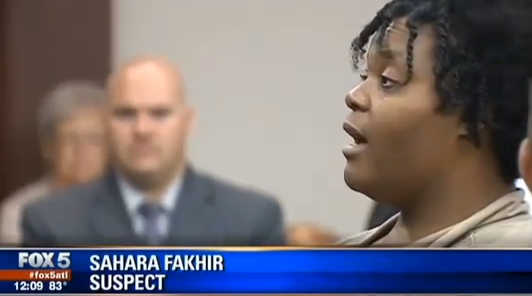 Published on Jul 18, 2013 DOUGLAS COUNTY, Ga. – A 32-year-old woman accused of murdering her neighbor — a beloved Douglasville auto shop owner and father of a local deputy — defied the Douglas County judge as she stood before him Thursday morning.

"I am my lawyer right now and he's speaking through to me," said Sahara Fakhir, a potentially imposing figure standing six feet, two inches tall and weighing an estimated 450 pounds.

The judge asked, "Are you going to get a lawyer?"

"Allah is my lawyer right now, and if you do not release me, Allah will have his vengeance on you like he did in 2009, when he sent that flood," Fakhir said.