And no doubt this "Islamic scholar" knows what he's saying is absolutely true.
The kicker is, those of us who point out these violent beliefs, providing ample Islamic justification for them and concluding that it has therefore, no place within or liberal democracies, are the ones considered spreading hate for a religious people and deemed…"waycists".
H/T Always Watching, via Jihad Watch
"This was because, on a reasonable interpretation of the scholar's remarks,

Ofcom considered he was personally advocating that all Muslims had a duty to attack or kill apostates or those perceived to have insulted the Prophet."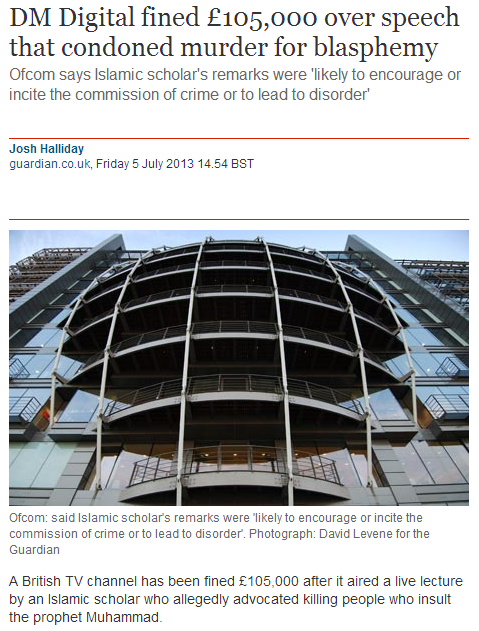 Manchester-based station DM Digital, which describes itself as Britain's most-watched Asian channel, broadcast the one-hour programme in Urdu in October 2011.
The Islamic scholar can be heard telling his audience: "I hail those who made this law [Pakistan's blasphemy law] which states that one who insults the Prophet deserves to be killed – such a person should be eliminated."
Ofcom's English-language translation of his lecture suggest he also told viewers: "If someone takes a step in the love of the Prophet, then this is not terrorism."
On Friday, the media regulator said it had fined DM Digital £85,000 for airing the scholar's remarks and a further £20,000 for a separate programme. The channel has also been ordered to broadcast a statement by Ofcom.
Ofcom said: "The programme Rehmatul Lil Alameen featured a live lecture by an Islamic scholar, which included material that Ofcom considered was likely to encourage or incite the commission of crime or to lead to disorder.