In a macabre kind of way, the reasons for their suicide is more normal than blowing themselves up in the midst of unsuspecting shoppers or on a bus. 
A third student attempted to take her life by throwing herself from the second floor of a building in Beit Hanoun, in Gaza, after learning she had not passed the exam. This student suffered pelvic and foot fractures and was transferred to a hospital in Gaza.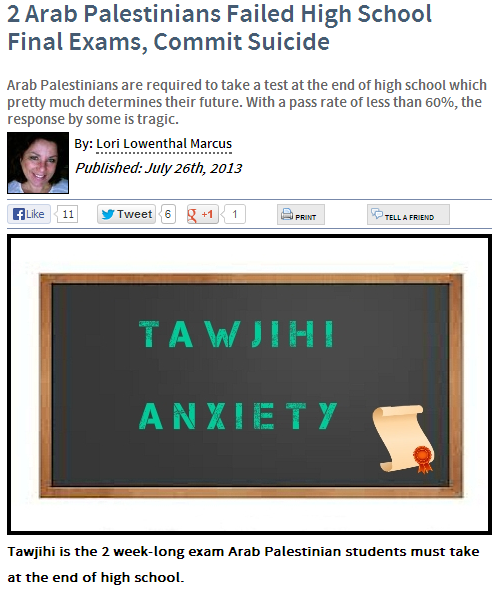 Here is a twist on the tragic stories Westerners have become familiar hearing about: two Arab Palestinians who had just completed high school committed suicide on Thursday, July 25. And here's what is differently tragic about this story: these teenagers killed themselves not to seek martyrdom by killing as many Jews as possible, thereby bringing honor and glory to their families. No, the reason these young people killed themselves is something to which far more Westerners can relate, or, at least, understand.
These students committed suicide because they failed their final high school exams.
The exams are known as "Tawjihi," and a passing score is virtually required for entrance to university.