Now there's a headline for you.
I posted on this last year. Only in hard-core Leftist Sweden do they dare black face, because they're so anti-racist they can do just about anything and get away with it.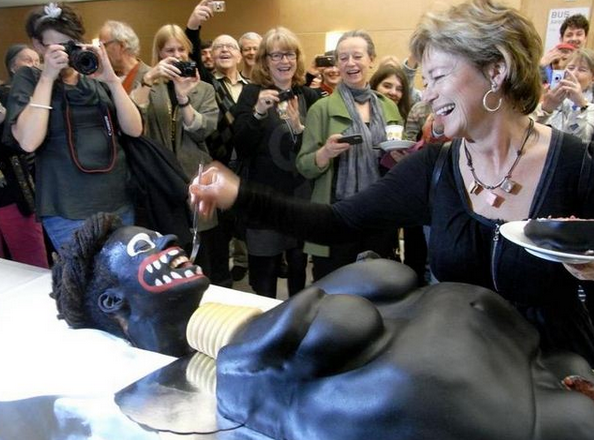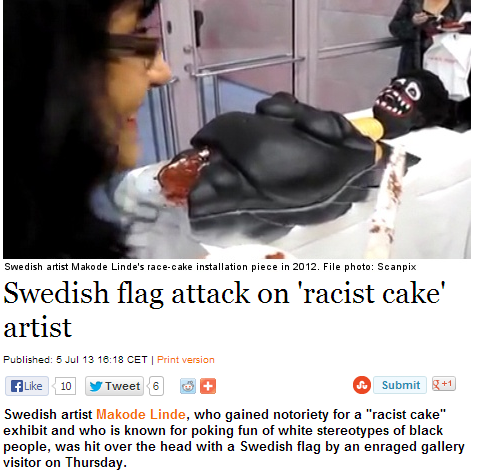 Linde was in attendance as his exhibition at the Lokstallet gallery in Strömstadin western Sweden on Thursday evening with a group of visitors when a drunk man in his mid-thirties entered the art hall brandishing a small Swedish flag.
"It was the kind of flagpole people have on the stern of a boat, for example, and it had a Swedish flag on it," Strömstad municipality's culture director Jan Palmblad told the regional Göteborgs-Posten (GP) newspaper.
Palmblad said that while the drunk man was already angry upon entering the gallery, he did not appear to recognize Linde. The Swedish artist shot to global fame last year when Sweden's Minister of Culture Lena Adelsohn Liljeroth tucked into a cake in the shape of a woman's body, covered in black marzipan and meant to symbolize stereotypical colonial depictions of African women.
The affair, dubbed "Cake-gate" by some, saw several observers question the minister's actions, with the Afro-Swedes Association demanding that she resign.
The exhibition on show in Strömstad is a continuation of Linde's "Afromantics" body of work.
More here. H/T: Fjordman