Yeah, for what country?
The woman deserves an orange jumpsuit and a long prison sentence (including her WC Fields look-a-like husband) for all her crimes during the past 40 years, she's a disgrace.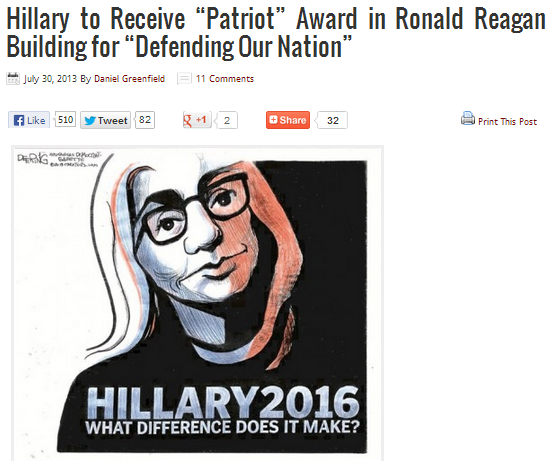 Clinton will receive the American Patriot Award from the National Defense University Foundation at a gala dinner on Nov. 14. The award is given to "leaders who have strengthened America's strategic interests and advanced global security," according to a press release.

"As First Lady, Senator, and Secretary of State, Hillary Rodham Clinton tirelessly worked to support and defend our nation and our allies around the world," said Al Zimmerman, chairman of the NDU Foundation Board of Directors, in the release.
So what exactly did What Difference Does It Make do to support and defend our nation and allies?
She worked for an administration that tanked two wars, started a third that got four Americans killed and forced the French to invade Mali. That administration also helped overthrow pro-American governments and replace them with Islamist regimes.
It cut health care for the military, fired countless military personnel and tied the hands of soldiers in the field leading to unprecedented casualties in Afghanistan. Hillary's contribution to that conflict involved apologizing to Pakistan.
Hillary Clinton has nothing in common with past honorees who were usually in the military or closely involved in military affairs.