FM BRIETBART.COM: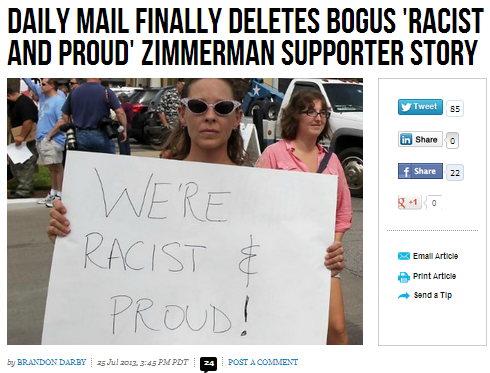 The U.K.'s Daily Mail has finally removed an article proven false by an exclusive interview with Breitbart News from their website, although no statement was provided to readers to inform them that the story had been based on a falsehood.
The Daily Mail had continued to run a debunked story claiming a George Zimmerman supporter was carrying a sign saying "We're Racist & Proud!" during a Houston counter-protest, despite being informed three days previously via email that the source for the article, a New York Daily News report, had been retracted. There was also a substantial outcry over the inaccuracy of the story from social media, the blogosphere, and U.S. media sources.
The hoax came after after the New Black Panther Party held a march for Trayvon Martin on July 21, 2013 that resulted in a counter-demonstration. A woman on the pro-Trayvon side of the clearly separated and distinguishable protests held a sign that read: "We're Racist & Proud!"
The Houston Chronicle then reported on a picture of her holding the sign in an unclear manner, which the New York Daily News' Philip Caulfield then distorted the ambiguous Houston Chronicle piece and turned the woman with the sign into "a Zimmerman supporter." The New York Daily News immediately retracted their claim once they were made aware that Breitbart News had video evidence that the woman was actually a left-of-center Trayvon Martin supporter.
Meanwhile, the Daily Mail took the false segment of the New York Daily News report and then based an entire article off of the narrative of the "racist" sign. While the incorrect information in New York Daily News article represented a small section of their larger article on the protest, the Daily Mail based an entire article and its headline on the fallacy.