I can only shudder to think of the poisonous gasses Palestinians suffered at the Muqtata while stinky Arafat was still in command.
H/T: Vlad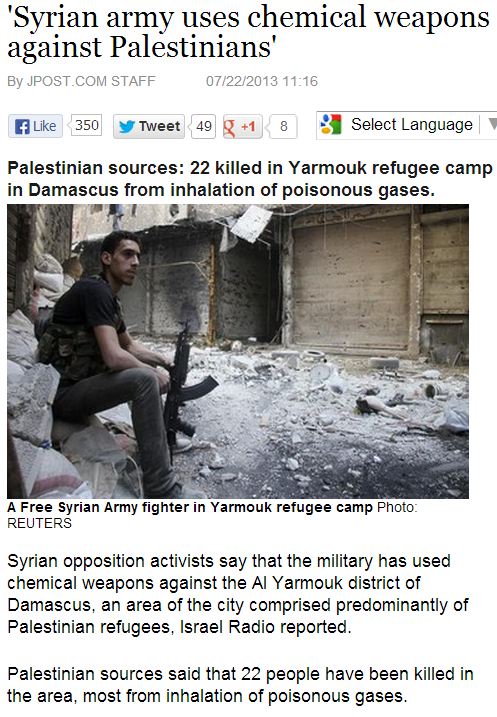 In what was considered a significant tactical and moral victory, forces battling to overthrow Syrian President Bashar Assad captured the Yarmouk region this past December.
The Syrian conflict has split Sunni loyalties, with Hezbollah following its patron Iran in backing Assad. Last year, the leadership of the Palestinian Islamic Jihad had left Syria for Iran but still remained on good terms with the Assad regime.
However, Palestinian Sunni terror group Hamas closed its offices in Damascus earlier this year, announcing in February that they were turning against the Alawite Assad and instead supporting the Sunni rebels.
In October, Syrian rebels announced they had begun arming sympathetic Palestinians, who would form a group called the Liwa al-Asifa (Storm Brigade) to fight against the PFLP-GC and take its Yarmouk stronghold.
The Popular Front for the Liberation of Palestine – General Command has accused the Liwa al-Asifa of trying to stir up trouble within the Palestinian refugee community in Yarmouk, while Syrian rebels have accused the PFLP-GC of stifling Palestinian dissent against Assad.