Drones at the ready.
Lets be clear here, there is absolutely no one to talk with, no one. The only reason why Israel is releasing terrorists, is due to US pressure for talks, any kind of talks, to begin.
NOTE: Here's a link to the CAMERA organization that has listed all the crimes of these pre-Oslo prisoners to be released.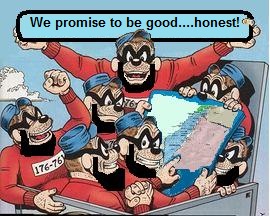 Israel set to release 82 Palestinian prisoners as gesture ahead of talks
Army backs move, saying freeing veteran prisoners will strengthen Palestinian Authority President Abbas, who is under fire from Palestinian public and parts of Fatah leadership.
By Amos Harel | Jul. 22, 2013 | 5:14 AM | 
 8
Israel is planning to free some 82 of the 103 Palestinians sentenced to prison terms in Israel before the Oslo Accords were first signed in 1993, as part of the gestures to the Palestinian Authority in the context of the renewal of peace talks. The prisoners will not all be released immediately but rather in four different stages during the talks.
All the prisoners to be released have already served between 20-35 years in prison, most being Fatah members. Defense officials believe that most of them will not constitute a future risk, taking into account their age and the slim chance that they will resume terrorist activity after their release.
These "Fatah Elders" have awaited their release during previous goodwill gestures and prisoner-swaps, such as the 2003 deal in return for the bodies of three missing Israel Defense Forces soldiers and abducted IDF Col. (res.) Elhanan Tenenbaum; the 2008 deal for the return of the bodies of two reserve soldiers; and the Gilad Shalit deal of 2011.