Israelis carefully excavate ancient treasures, while the Muslims busily trash Jewish artifacts on the Temple Mount, trying to erase any sign of the Hebrews and their heritage.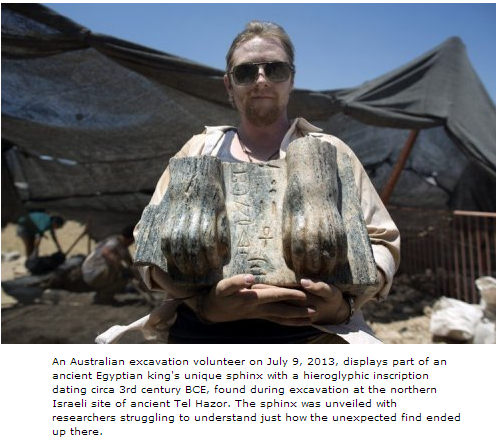 Unique Egyptian sphinx unearthed in north Israel
AFP – Part of an ancient Egyptian king's unique sphinx was unveiled at a dig in northern Israel on Tuesday, with researchers struggling to understand just how the unexpected find ended up there.
The broken granite sphinx statue — including the paws and some of the mythical creature's forearms — displayed at Tel Hazor archaeological site in Israel's Galilee, is the first such find in the region.
Its discovery also marks the first time ever that researchers have found a statue dedicated to Egyptian ruler Mycerinus who ruled circa 2,500 BC and was builder of one of the three Giza pyramids, an expert said.
"This is the only monumental Egyptian statue ever found in the Levant – today's Israel, Lebanon, Syria," Amnon Ben-Tor, an archaeology professor at the Hebrew University in charge of the Tel Hazor dig, told AFP.
"It is also the only sphinx of this particular king known, not even in Egypt was a sphinx of that particular king found."