Nothing should have been sent period, but this is the best of a bad scenario.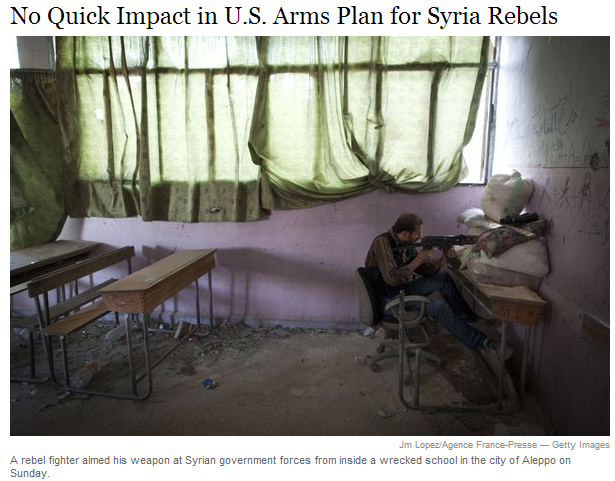 WASHINGTON — A month ago Obama administration officials promised to deliver arms and ammunition to the Syrian rebels in the hope of reversing the tide of a war that had turned against an embattled opposition.
But interviews with American, Western and Middle Eastern officials show that the administration's plans are far more limited than it has indicated in public and private.
In fact, the officials said, the administration's plans to use the C.I.A. to covertly train and arm the rebels could take months to have any impact on a chaotic battlefield. Many officials believe the assistance is unlikely to bolster the rebellion enough to push President Bashar al-Assad of Syria to the negotiating table.
The plans call for the C.I.A. to supply only small arms, and to only a limited segment of the opposition — the actual numbers are unclear. In addition, much of the training, which is to take place over months in Jordan and Turkey, has not yet started, partly because of Congressional objections.
The cautious approach reflects the continued ambivalence and internal divisions of an administration that still has little appetite for intervention in Syria, but has been backed into a corner after American and European spy agencies concluded that Syrian government troops had used chemical weapons against the rebels. Mr. Obama had declared the use of chemical weapons to be a "red line" leading to American action.