Gee, I wonder why that was?
From the arrest and imprisonment of the brave doctor who helped the US to locate Bin Laden, you can safely assume that the Pakistani government (nor its people) have never been a loyal partner of the US in the fight against al-Qaida.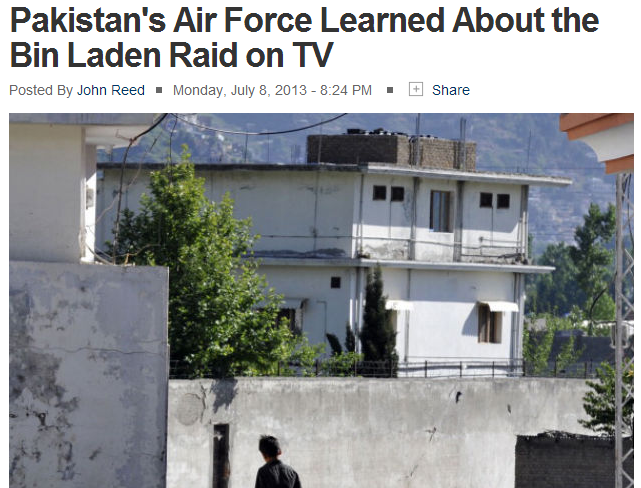 The Pakistani air force learned about the U.S. raid to kill Osama bin Laden from a television news report about a helicopter crash in Abbottabad. Belatedly, they scrambled fighter jets. But by then, the Americans were long gone.
In other words: Pakistan had virtually no chance of detecting U.S. choppers as they flew into the Pakistani equivalent of West Point. And if they raid was done all over again, they still wouldn't catch the aircraft. That's according to a leaked report from Pakistan's independent Abbottabad Commission that was charged by the Pakistani government to investigate the raid.
The commission says the Pakistani military never saw the raid coming because of the American choppers' stealthy, noise-reducing equipment, the skill of their crews at flying below radar, and the fact that Pakistan's air defenses are focused on its border with India, not Afghanistan.