Miraculous? Nope, especially if they had the heads up before hand.
I wouldn't be surprised if it were Muslim on Muslim violence, or a ruse for sympathy, but lets wait and see before jumping to conclusions. It's an act of terror nonetheless.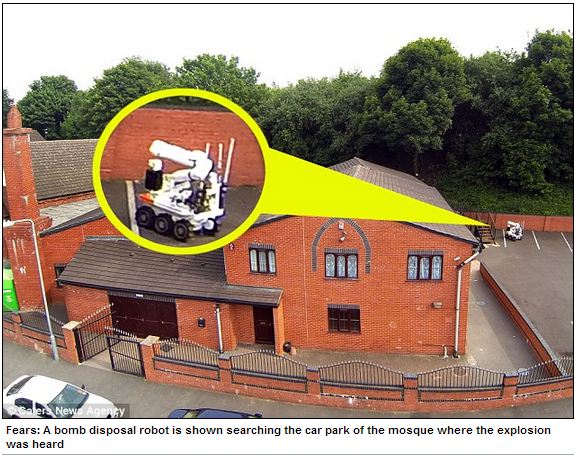 Police carry out controlled explosion on part of nail bomb that exploded at a mosque an hour after Lee Rigby's funeral
Nail bomb exploded near mosque in Tipton, West Midlands, yesterday

Police are now 'making safe' part of the device found in nearby garden

Hundreds of Muslims were due to be in the area for Friday prayers


But miraculously, religious leaders had delayed the prayers by an hour

No reports of injuries, but houses and cars suffer damage


Nails and debris found close to Kanz-ul-Iman Central Jamia Mosque

West Midlands Police treating incident as a terrorist attack
By PAUL BENTLEY, AMANDA WILLIAMS and STEVE ROBSON
PUBLISHED: 15:13 GMT, 12 July 2013 | UPDATED: 16:42 GMT, 13 July 2013
Police investigating a nail bomb attack at a mosque are carrying out a controlled explosion on part of the device, police said.
The Kanz Ul Iman Masjid mosque in Tipton, West Midlands, was attacked yesterday afternoon but no one was injured.
Today, a force spokesman said the controlled explosion would take place between 4.30pm and 5.30pm.
A force spokesman said: 'Following ongoing forensic searches of the cordoned area, officers have found what appears to be a potential small component part of the device in a back garden of one of the properties.