And everywhere else substantial numbers of Muslims live with non-believers.
Where are the U.S. Muslims in protesting this, telling their coreligionists where exactly they are getting all of this wrong? Crickets chirping.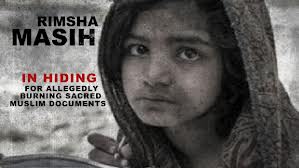 Pakistan: Violations against Christians Soar
She is on death row for a comment that Jesus Christ is not dead but that the Prophet Mohammed is dead. Pakistan is now one of the most dangerous places for Christians to live.
Rimsha Masih, a young Pakistani Christian girl, who was arrested in August 2012 by Pakistan's police for alleged blasphemy, has escaped the country with the direct help of Canadian Immigration Minister Jason Kenney and AVAAZ, a civic organization. Local media and her parents said she was as young as 11 at the time of her arrest; medical reports classified her as an "uneducated" 14-year-old with a mental age younger than her years. Accused of burning pages of the holy book for Muslims, the Quran, Masih, under Pakistan's "blasphemy laws," faced the death penalty.
Masih fled with her family members to Canada, where Immigration Minister Jason Kenney instructed officials to process the family's applications for permanent residency on humanitarian grounds.
While Masih and her family are fortunate, no one knows what will happen to the rest of the Christians of Pakistan. Even though they make up only about two percent of the population — or precisely because of it: there are so few, they may appear invitingly vulnerable — they suffer beatings by their neighbors, murder by the police and imprisonment by the courts.