So what does the fall of Morsi really mean? It means the end of the Arab Spring. There's no positive change here, just revolution followed by revolution in an endless succession of banana republics.
In short, my joy at Morsi's departure more than offset by my concern that the lessons of his misrule will not be learned.
Whether the demonstrators in Egypt who brought down Morsi can ultimately defeat the pro-Sharia forces in Egypt and establish a truly free society, and whether enough of them even really want to, remains to be seen. But if Obama and CAIR see them as foes, they can't be all bad.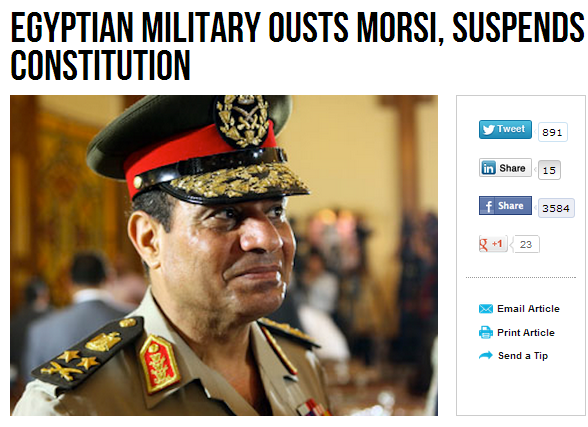 On Wednesday, Gen. Abdel Fatah Said Al-Sisi announced a military coup in Egypt. He said that the Constitution had been suspended, that early elections would take place, and that there would be a "code of ethics" for the media. He stated that the chief of the Constitutional court would be taking charge during a transitional period before another election. He said the new government would be "diverse and include all the people," and that the constitution would be revised to reverse changes made by ousted Muslim Brotherhood President Mohammed Morsi.
Al-Sisi said there would be a code of ethics for the media that would "establish values and ethics for the media to follow." He also stated that there would be a committee for reconciliation from leaders who are credible. The armed forces, he said, call on the great Egyptian people with its various groups to continue to have peaceful protests and end the crisis. He also said that the military warned it would take action against anyone moving beyond peaceful protest.