This is an outrage, wrong and those responsible should be prosecuted. I must remind people however, that this wouldn't be the first time members of the same ideology trashing that which is holy to them in order to blame others.
NOTE: Welsh national socialists should indeed be suspected as well.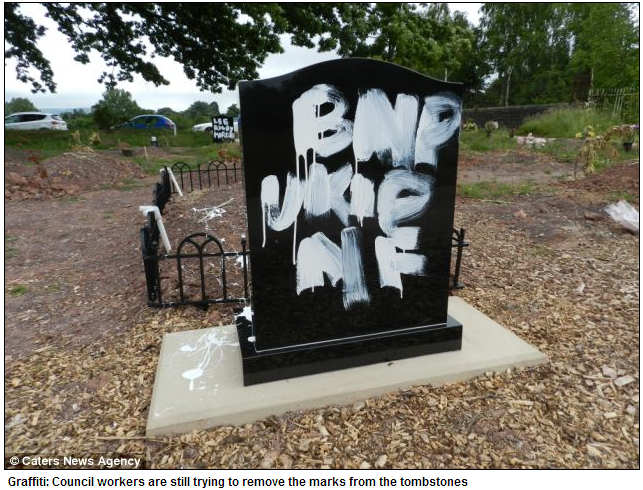 Vandals daub racist graffiti and spray swastikas onto graves of dead Muslims in a Welsh cemetery
Vandals sprayed swastikas and racist graffiti on Muslim tombstones

They signed one tombstone with the initials BNP, UKIP and NF

Grave of relative of secretary of the Islamic Society for Wales tarnished

By JAMES RUSH
PUBLISHED: 18:47 GMT, 2 July 2013 | UPDATED: 20:50 GMT, 2 July 2013
Muslim graves have been defaced with racist graffiti in the latest case of far-right attacks.
Vandals sprayed swastikas, 'Lee Rigby murder', and 'white power' on four tombstones in the Muslim area of a cemetery in Newport, South Wales, on Saturday night.
They signed their work with initials of the British National Party (BNP), the UK Independence Party (UKIP), and the National Front (NF).